Profile Home
About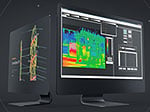 About Advanced Energy
Advanced Energy (Nasdaq: AEIS) is a global leader in the design and manufacturing of highly engineered, precision power conversion, measurement and control solutions for mission-critical applications and processes. AE's power solutions enable customer innovation in complex semiconductor and industrial manufacturing applications. With engineering know-how and responsive service and support around the globe, the company builds collaborative partnerships to meet technology advances, propel growth for its customers and innovate the future of power.
Advanced Energy's SCR power controllers, optical temperature pyrometers, and thermal imagers set the standard for thermal processing precision, repeatability, and reliability. When integrated into a closed-loop solution, our products deliver exact heat measurement and regulation.
We invite you to learn more about the technologies behind the world's most reliable sensor solution providers! Visit www.advancedenergy.com.
Technical Articles