About

MISTRAS NDTs division combines three brands, Physical Acoustics Corporation (PAC), NDT Automation (NDTA) and Vibra-Metrics. They develop and manufacture leading edge technologies, products, systems, software and monitoring solutions for nondestructive testing and predictive maintenance used to evaluate the structural integrity of energy, industrial and public infrastructure. These technologies include advanced acoustic emission, ultrasonics, vibration monitoring, thermography and resistivity systems. MISTRAS' mission critical solutions are delivered globally and provide customers the ability to extend the useful life of their assets, improve productivity & profitability, comply with government safety and environmental regulations and enhance risk management operational decisions.

By combining the skill and experience of their certified technicians, engineers and scientists with their advanced enterprise software, 24/7 on-line monitoring and other proprietary product offerings, MISTRAS is able to deliver a comprehensive portfolio of solutions for your inspection needs, ranging from routine NDT inspections to complex, plant-wide asset integrity assessment and management solutions.
View, download or print MISTRAS' brochure
www.mistrasgroup.com
www.pacndt.com | www.ndtautomation.com | www.vibrametrics.com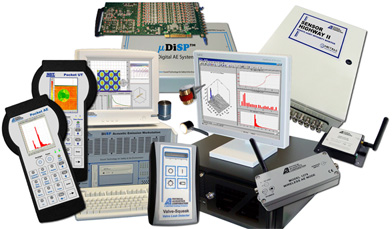 Products, Systems, Software and Monitoring Solutions…
Acoustic Emission (AE):
Sensors, Preamplifiers, Subsystems, Calibrators, Signal generators, Intrinsically Safe, Small AE Systems, Multichannel Boards and Systems, Outdoor/Online/Remote Multichannel AE Systems, Wireless AE, AE Software, Turnkey Application-Based and Portable AE Systems.
Ultrasonics (UT):
UT Systems, Gantry Systems, Immersion Systems, Portable UT Systems, UT Boards, UT Software, Robotic Work Cells, Transducers, Scanners.
Vibration & Predictive Maintenance (PdM):
Accelerometers, Power Supplies, Display Monitors, Charge Amplifiers, Switch Boxes.
Thermography:
Line Scanning Thermography
Monitoring Solutions:
Asset Condition and Remote Monitoring Systems for 24/7 On-line Monitoring.
Software:
Acoustic Emission Software, Ultrasonics Software.
Supplier Directory Categories