About

Marshall is equipped to provide precision medical devices and surgical instruments.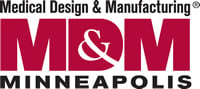 MD&M Minneapolis, MN:
October 29 - 30, 2013
Booth # 1558

Click for more information

MD&M Anaheim, CA:
Feb 11 - 13, 2014
Booth # 1193

Click for more information
Marshall Manufacturing - an ISO registered company and approved supplier to medical and advanced technology companies - offers precision bending, 3D bending, and medical laser tube cutting.
Incorporating advanced manufacturing techniques such as integrated machine operations and cell manufacturing (see our Automated Swiss Machining Cell), Marshall Manufacturing provides unparalleled quality, efficiency and on-time delivery. Marshall Manufacturing welcomes medical, scientific and leading edge companies looking for challenging parts and assemblies that may be out of the ordinary.
Wire EDM (Electrical Discharge Machining)
Complete Lot Traceability
Validation of Equipment & Processes
Prototyping for Production
CAD/CAM
Multiple Spindle Drilling (up to 78 holes per row)
Stamping
SPC (Statistical Process Control)
Documentation Control
Certifications & Certificates of Conformance
Assembly
Supplier Directory Categories
Marshall Manufacturing Company is also listed in these categories: