About
Material Flow Solutions strives to provide economic solutions to
powder and granular solids flow problems through reliable process and product design.

Material Flow Solutions, Inc. incorporated in March, 2001. In their Gainesville, Florida offices, they perform material property testing and analysis and design handling systems to optimize clients' production and increase their bottom line. The company is dedicated to providing cost effective engineered solutions based on measurement of key flow properties. They provide both the material flow property testing and the design experience to solve many flow problems facing producers of fine powders and granules.
Material Flow Solutions will help your company achieve your economic and process optimization goals by providing conceptual engineered design for powder handling systems based on sound scientific and engineering principles. Their company will also provide you with required testing and analysis to help you design your products to behave in a prescribed manner. They aim to provide you with process and product development or retrofit solutions that work and are sufficiently robust and economic for your needs.
Material Flow Solutions' experience extends to pharmaceutical, food, chemical, energy, mining, and consumer products. They have reduced segregation in existing systems from 50% out-of-spec material down to 0.2% out-of-spec material. They have designed feed systems to successfully handle very cohesive bulk materials. Their testing capabilities measure flow properties at process conditions from -20 deg F to 1800 deg F.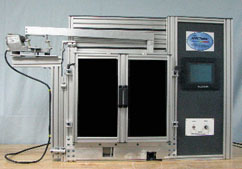 SegregationPotentialEvaluation/CharacterizationTester

Utilizing state-of-the-art, cutting edge spectroscopic technology, the new SPECTester measures your sample, of up to six (6) unique components and, with a touch of the finger, reports how much as well as why your material is segregating. Automated to be user-friendly, it provides data about: component concentrations, particle size differences, product uniformity, and up to four (4) specific segregation mechanisms. This segregation tester can be used in R&D facilities as well as in production plants for on the spot, mid-stream quality control.
Please contact Material Flow Solutions when you need a reliable solution to your product or process needs.
Supplier Directory Categories
Material Flow Solutions, Inc. is also listed in these categories:
Technical Articles