About
A "Green" Approach to Generating High Quality Fresh Water!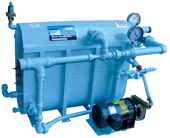 Located in Shreveport, Louisiana, Maxim is a leader in evaporation technologies. We provide a full array of engineering, manufacturing, installation, training and maintenance services.
Maxim designs and manufactures waste heat recovery evaporators. Environmentally friendly, thermal flash designs use waste heat from engine jacket water, engine exhaust, steam or other heat source to transform seawater, brackish water, or contaminated fresh water into pure water that is suitable for human consumption, industrial processes, agriculture and many other applications.
Maxim also offers a line of Commercial Marine Seawater Reverse Osmosis desalination systems, The Sterling Series. Maxim's seawater RO system offers clients quality & reliability, a competitive price point, and timely delivery.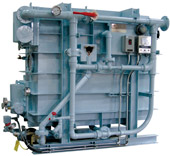 Maxim now offers a line of cleaning solutions for heat recovery evaporators; MAX-Defense (a scale preventative), MAX-Descaler (a scale remover), and MAX-Control (a corrosion inhibitor). All three cleaning solutions are non-hazardous and MAX-Defense is NSF approved under ANSI Standard 60 for drinking water applications.
Maxim is your source for high quality & reliable desalination equipment.
Navy • Coast Guard • Offshore Oil & Gas Operations • Commercial Fishing • Ocean Going Cargo Ships • Liquid Waste Concentration • Land Based Desalination
Supplier Directory Categories
Maxim Watermakers is also listed in these categories: