About
Advanced Filament Winding Systems
McClean Anderson is a world leading manufacturer of filament winding equipment. Since 1961, McClean Anderson has contributed to the advancement of composites by providing innovative and cost-effective filament winding solutions to customers worldwide.
We develop, manufacture and support a wide variety of advanced filament winding equipment with a proven track record for quality, service and price.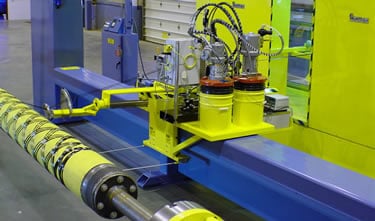 Filament winding consists of winding resin-impregnated composite fibers on a rotating mandrel in predetermined patterns; providing the greatest control over fiber placement and uniformity of structure. During winding these fibers are either run through a low viscosity resin, or the resin matrix is pre-impregnated into the fiber. After the composite layers are wound, the component is cured and removed from the mandrel. While filament winding is traditionally used to produce pressure vessels, piping, tanks, rocket motor casings, ducting, shafts and rods, it has also expanded into non-cylindrical and asymmetrical geometries.
McClean Anderson maintains a strong commitment to its customers while actively pursuing an aggressive machine design and development course for the purpose of keeping pace with the needs of the composites industry.
Supplier Directory Categories
McClean Anderson is also listed in these categories:
Technical Articles