About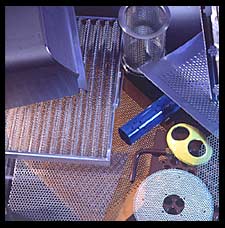 McKey Perforating Co., Inc. began in 1860 in Chicago, Illinois as the Aitcheson Perforating Company. In 1910 the Nortmann-Duffke Foundry Company, located in Milwaukee, Wisconsin purchased Aitcheson Perforating Company and moved it to Milwaukee.

In 1953 Nortmann-Duffke was purchased by Douglas E McKey who, in 1957, changed the name to the McKey Perforating Co., Inc. The company moved to its New Berlin, Wisconsin location in 1972 and currently occupies 75,000 square feet, including 17,000 square feet which were added in 1994.

In 1982 McKey Perforating Company acquired Toepfer and Sons, Inc. a perforating services firm established in Milwaukee in 1855 (the oldest perforator in the U.S.) and consolidated its operation into the New Berlin location which enabled further expansion of operations and capabilities.

In 2000, McKey built and opened a second manufacturing facility, with 20,000 square feet, in Manchester, TN. This operation not only houses state of the art perforating services equipment for both coil and sheet work, but also has a one of a kind perforated, laser welded custom tube mill. With this expansion, McKey is among the top perforators in the U.S. in production capacity and capabilities.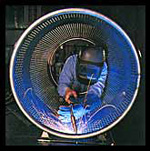 Today, McKey Perforating Co., Inc. serves a wide variety of customers in such diverse industries as construction equipment, electronics, agricultural, medical, mining, chemical, architectural and automotive.

Perforating services are done at McKey using various types of presses and unique tooling packages. Some presses, as large as 440 tons, use state of the art electronics and special gagging techniques to create patterns and pilot holes. Much of this work continues on to stampers and fabricators who form parts into exhaust systems, tractor grilles, grass guards for engines, roof decking, computer housings, grain bin floors and many other applications.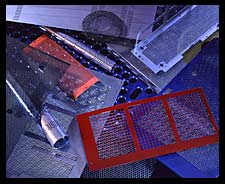 CNC and Sectional Presses use cluster punch tooling, developed by McKey. They process material up to 1" thick for use in grilles for huge tractors and construction equipment, also for crusher screens and shakers in mining, recycling pollution control and architectural applications. McKey also offers fabrication and has certified welder, brake presses, and lasering capabilities.

At McKey, being Green has just been good business practice for decades. Perforated materials are prominent in a variety of markets that are environmentally friendly. From the transfer of natural light and airflow to sound absorption and filtering of solids and liquids; perforated materials have always been at the forefront in these applications.

McKey Perforating is an ISO 9001 certified founding member of the (IPA) Industrial Perforating Association, which funds studies in applications, sets standards, and advances the use and understanding of perforated materials. McKey is a leader among perforators and counts, among its strengths, dedication to superior customer service and long term customer relationships.
Supplier Directory Categories
McKey Perforating Company, Inc. is also listed in these categories: