About
Core Capabilities
Metal Cutting Corporation manufactures burr-free tight tolerance parts from all metals. We provide the precision required by medical device, automotive, electronic, biotechnology, semiconductor, aerospace, fiber-optic, electrical and many other diverse industries.
Specializing in We are specialists with over 45 years cutting, grinding, lapping, polishing and machining metal parts. Our experience, inventory and capabilities provide the skills and capacity to meet the needs of technology device manufacturers. Specialty metals, micron tolerances, low or high volumes, complex metrology--all these and more are the requirements we achieve every day for products shipped worldwide.
In addition, we provide a variety of secondary and value-added services that are designed to both compliment their core capabilities and function as stand-alone services. In addition to high finish lapping and polishing, Metal Cutting offers spooled mechanical polishing, sandblasting and passivation, as well as advanced cleanroom metrology and 100% mechanical inspection on high volume orders. Metal Cutting's long history serving the medical device market combined with our commitment to innovation help us to stay ahead of the curve when it comes to meeting the needs of customers.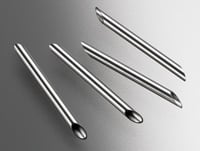 Metal Cutting has been perfecting the science and crafting the art of burr free cutting for over 45 years. All 46 of our proprietary Abrasive and EDM cut-off machines offer unmatched precision and high-speed capability with burr-free results. That means you get what you want, when you want it--there is no order too small, and no quantity too large. Cutting is what weâ??re built on; and as the centerpiece of our operation, we work continually to improve our methods to ensure the quality and service our customers depend on.
To learn more about the full range of our Abrasive and EDM Cutting services including tolerances and specs, visit our website.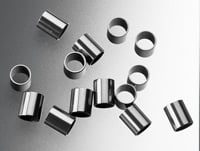 Grinding has been a core competence for over 45 years and today we offer an extensive range of CNC centerless, plunge, surface, profile, and double disk grinding. We hold extraordinary tolerances, generate specific surface finishes and create highly customized end features. We pride ourselves on the ability to grind complex shapes in difficult-to-machine metals.
When you require highly polished part ends, extremely tight length tolerances and extraordinary flatness unavailable by any other production method, we employ our large and unique in-house lapping machines. We can process both tubes and solids using our experienced lapping, fine grinding and flat honing capability that allows us to meet your precision tolerance and surface finish requirements.
To learn more about the full range of our Grinding and Lapping services including tolerances and specs, visit our website.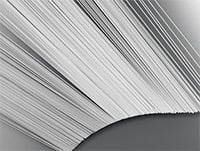 Metal Cutting has over 100 mechanical polishing machines running on a continuous, lights-out schedule. We have carefully crafted recipes that combine time, temperature, action, fluids and abrasives in order to yield consistent and specialized resultsâ??regardless of quantity or part size. The action of our equipment ranges from multiple ultrasonic frequencies to extremely vigorous centrifugal high-speed motion. Drawing on our extensive experience using abrasive methods in manufacturing, we have been able to achieve specialized finishes on a variety of metal shapes and surfaces, all to customer specification
To learn more about the full range of our Polishing services including tolerances and specs, visit our website.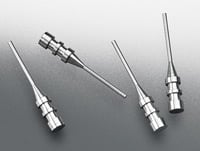 Our experienced machinists and versatile machines are well- equipped to tackle even the most complex precision turned metal components. From smaller volumes on our Haas mills and lathes to high volumes available from Citizen automatic Swiss-style machining, along with our in-house deburring and mechanical polishing capabilities, we are ready to make your turned parts. Our multi-axis Chmer EDM equipment adds wire-cut electrical discharge machining capability to the manufacturing services we offer you.
To learn more about the full range of our Machining services including tolerances and specs, visit our website.
Visit our Product Portfolio
Tubes
Solids
Machined Parts
Supplier Directory Categories
Metal Cutting Corporation is also listed in these categories:
Technical Articles