About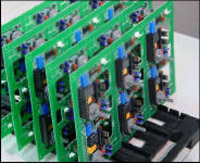 Mettrix Technology specializes in Quick-turn electronic assembly services specifically tailored toward Prototyping, Small and Medium quantity PCB production runs, Box Builds, and Fulfillment Services.
Mettrix Technology provides a full range of electronic assembly services from prototyping to medium quantity production runs of up to 10,000 pieces or more depending on the type of assembly required. Their assembly services are divided into two tiers: Quick Turn Prototyping, and Production. Quick Turn Prototyping is limited to smaller quantities typically built on an accelerated schedule of anywhere from 24 hours to two weeks. Production runs are scheduled based on lot size, customer delivery requirements, and other services requested by the customer.
Their design services complement their assembly services. Their team of engineers and technicians are skilled at the design of electronics, printed circuit boards and mechanical assemblies. Because they are skilled at assembly, they apply their knowledge of the assembly process to all design tasks they perform for you. The end result is an improved design that lends itself to easier assembly thus reducing overall product costs. Their expertise includes high speed and high density board layout, system design, product design and testing.

Supplier Directory Categories
Mettrix Technology Corporation is also listed in these categories: