About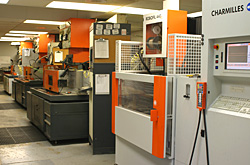 MicroCut, Inc. is a highly experienced and proficient wire EDM job shop. Our wire EDM process is a cost-effective alternative to other cutting and tooling processes when producing gears, splines, medical parts, aerospace parts, decorative parts, fine blanking parts, mold cavities, intricate punches and dies. We can program and cut a shaped part from any electrically conductive material to within ±0.0002" accuracy, with repeatability of ±0.0001" accuracy.
The materials we typically cut from include titanium, stainless steel, carbide, brass, copper, graphite and other, more exotic materials. Our state-of-the-art power generator and polishing circuitry have eliminated the unique problems associated with cutting carbide. For several years the company has been using wire EDM to produce small, intricate carbide shapes with virtually no surface destruction, while maintaining demanding tolerances.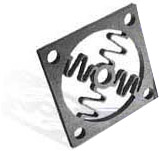 A typical wire EDM project starts with a blueprint furnished by the customer, showing a block with all the necessary dowel and screw holes. A copy of the print, with application notations on the drawing, will be returned with our quotation. Upon receipt of the customer's material, MicroCut generates a CNC program with the required profiles for use in cutting the die, punch, punch holder and stripper, assuring exact fit and clearance among all components.
For reorder projects and replacement parts, MicroCut maintains all computer programs and machine settings, enabling us to produce perfect new parts to the original specifications.
Supplier Directory Categories
MicroCut, Inc. is also listed in these categories: