About
When Quality and Precision Matter - Micro Quality Calibration, Inc. is the only choice



Calibration • Repair • Inspection • Testing • Sales
Micro Quality Calibration specializes in calibration, repair, testing and First Article inspection for the major leaders in the fields of Defense, Aerospace, Automotive, Bio-Medical, Electronics, Medical, and Communications since 1978. Our capabilities include but are not limited to the following types of equipment:
---
Calibration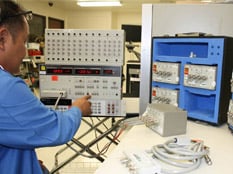 Micro Quality Calibration ("MQC") is fully accredited to ISO/IEC 17025-2005, certified to ISO 10012-1, ANSI/NCSL Z540.3-2006, traceable to N.I.S.T. and compliant to ISO 9000 series 1, 2, 3 & 4. MQC can manage all of your precision measurement test equipment needs so that you can focus on what you do best. Our environmentally controlled multi-laboratory facility and staff of measurement specialists are available to perform complex calibration and solve your most intricate measurement solutions in-house or on-site. Whether you have Primary Standards, Secondary Standards or Working Standards, MQC is one of the few Metrology Laboratories that has the ability to calibrate your precision measurement test equipment in each of its service line disciplines. Turnaround time is 5 business days with expedite service available.
---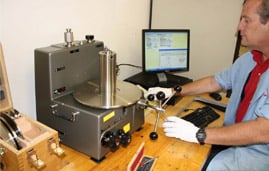 Repair
Micro Quality Calibration's environmentally controlled multi-laboratory facility is equipped with the latest diagnostic and repair instruments available. Our technical staff is Original Equipment Manufacturer ("OEM") Factory trained, to troubleshoot, repair, and calibrate the most complicated and sophisticated instrument in a timely manner.
MQC has the ability to repair any instrument we calibrate to the component level and certify to Manufacturer, Federal, Military and Industrial specifications.
Customers are notified immediately by fax or e-mail with a detailed quote should their test equipment fail and be in need of repair. Our staff will keep you informed every step of the way on the progress of your test instrument. If your equipment's repair cost exceed 65% of the fair market price of your item we recommend a replacement.
There are no charges for repair estimates if an item is sent in for calibration
All repairs are covered with a 30-day warranty
Extensive Original Equipment Manufacturer spare parts inventory allows repairs to be expedited within the 5 -10 working days
Once your test equipment is repaired your item will be calibrated and will include a certificate traceable to N.I.S.T. and include full data
---
Inspection / Testing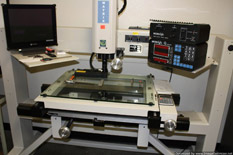 Our Labs are equipped with the latest video, temperature, electronic and pressure measurement devices, which enable us to achieve the most difficult verification of dimensional features. We implemented an inspection verification plan which is SPC driven, to enable many of our customers to nearly complete their mechanical machine processes without time consuming stops and starts to do inspection steps.
Our First Article rapid response team often can turn critical path inspection in 24-72 hours. Our expertise in spherical (roundness), surface finish, optical (non-contact), and dimensional attribute verification (Rockwell Hardness Inspection, Compression/Inspection Testing, Electrical Component Inspection, Environmental Testing, etc.) has thrust us into a World Class leadership role in this industry. Our highly developed Coordinate Measurement Machine ("CMM") techniques and video complimented enhancement allows us to reach the most difficult areas for verification. Whether it's prototype inspection, Initial Sample Inspection Report, full dimensional layout, or Production Part Approval Process our First Article Inspection will arm your company with essential information that can potentially save your company money.
We maintain a very extensive physical standards inventory and continue to evaluate and update this cache with the very latest and best standards that money can buy. With this approach, we have been able to capitalize on the technical advancements with better test methods, lowering cost, and reduction of cycle time. Our comprehensive Test Reports (which are provided to our customers) details the key points of critical dimensional attributes, as well as major and minor features and are in full compliance to our customer needs.
---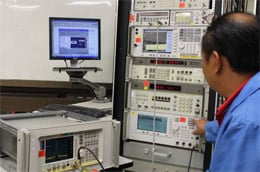 Sales
Micro Quality Calibration represents over 160 different lines of precision measurement equipment, all at an affordable cost to the customer. Need to replace rejected items quickly and avoid costly production delays? Contact one of experienced and friendly sales representatives to answer any questions you may have as well as provide you with a quote.
Each new and used sales item is covered by MQC's sales policy which covers all necessary:
Cleaning
Adjustments
Lubrication
No additional cost to the purchaser
All sale items come complete with a certificate traceable to N.I.S.T. and include full data
---
Why Micro Quality Calibration:
Accredited to the highest standards
Leading State-of-the-art equipment
Environmentally controlled multi-laboratory facility
In-house and onsite calibration services available
Proprietary calibration software gives customers 24/7 access to certificates, equipment lists, recall reports, calibration data, and more
Each calibration / repair comes with certificate traceable to N.I.S.T, calibration data, standards used, and barcode for inventory tracking
Ability to repair any instrument we calibrate to the component level and certify to Manufacturer, Federal, Military and Industrial specifications
No subcontracting to 3rd parties
OEM Trained Technicians
Fast 5 business day turnaround time (expedite services available)
Free pick-up and delivery with shipments of seven (7) items or more (regionally)
Rest assured your valuable precision measurement test equipment will be packaged, picked-up, delivered, and shipped with care
Global shipping
Sales of over 160 lines of new / used precision measurement equipment (sale items are calibrated at no charge)
Ability to calibrate Primary, Secondary and Working Standards in each category
Technical Support Available
Small Women Owned Business (matches both Federal and by State Guidelines)
The choice is simple. If you are looking for a metrology facility that can handle all of your companies equipment needs from calibration, repair, inspection and sales look no further.
For more information or to view our accreditation, sample certificates and full range of services please visit our website.
Learn why over 2000+ customers have made us their Calibration Laboratory of Choice.
Supplier Directory Categories
Micro Quality Calibration, Inc. is also listed in these categories: