About
Measurement Collection for Today & Tomorrow!
Easily connect any combination of digital gages (calipers, micrometers, digital indicators, etc.) and multiple RS-232 devices to your PC. Direct connect (RS-232, USB & Network) and wireless systems available. The configurability of our gage interface and wireless products allow them to be used with any statistical process control (SPC) or data acquisition (DAQ) software. With our WedgeLink hardware and software wedges, you can take real-time data directly into Windows applications such as Excel, Minitab, SPC software, etc.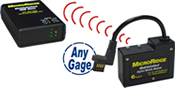 MobileCollect Wireless
MobileCollect makes it easier to bring your gage to what is being measured, rather than bringing what is being measured to your gage. Collect measurements with handheld gages (calipers, micrometers, etc.) and other instruments, and send wirelessly to your PC. MobileCollect continues to be #1 in reliability, and is often more reliable and less expensive than direct cabling. Customers choose MobileCollect because of lower cable replacement cost, durability, reliability, flexibility, and service.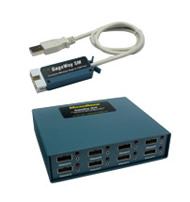 GageWay Interfaces
GageWay interfaces directly link single or multiple gages and serial devices using RS-232, USB or network connections. All of our interfaces can be connected to a USB port. The configurability of MicroRidge interface products allows them to be used with any SPC or data acquisition software.
WedgeLink Keyboard Wedges





Software and hardware keyboard wedges are used extensively in data acquisition applications that include statistical programs, spreadsheets, barcode, LIMS, etc. MicroRidge WedgeLink hardware and software keyboard wedges can accept input data from any RS-232 serial device or digital gage (CDI, Federal Maxum, Mitutoyo, Ono Sokki). The data is then passed to a Windows application in such a manner that the application thinks the data is actually coming from the keyboard.
Supplier Directory Categories
MicroRidge Systems, Inc. is listed in these categories: