About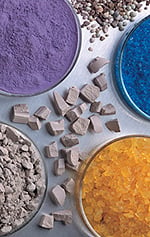 Founded in 1962, Micromeritics is a leading supplier of materials characterization analytical laboratory instrumentation and services. The company manufactures a broad line of automated laboratory instruments that measure physical characteristics of powders and solids for fundamental research, product development, quality assurance and control, production, and process control applications. Measurements obtained include particle size, particle shape, surface area, pore volume, pore size and pore size distribution, material density, catalytic activity, and temperature-programmed reactions.
Particulate Systems, a Micromeritics brand, markets an auxiliary selection of OEM materials characterization instruments. Small companies and independent innovators with novel instrument designs benefit from Micromeritics' extensive sales and support network while end users have access to new and exciting technology. Instrument measurements include nano particle size, zeta potential, particle shape, high-pressure adsorption isotherms, dynamic vapor sorption, magnetic traces in materials, activity and selectivity of catalysts, surface energy, segregation testing, and air permeability particle size.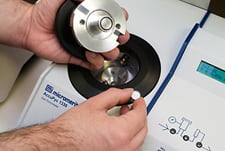 Micromeritics operates Micromeritics Analytical Services (MAS) and Micromeritics Pharmaceutical Services (MPS), both providing contract sample analyses and consulting services. MAS offers customers a choice of numerous different analytical techniques and dozens of methods for measuring particle size. Particle characterization services include: particle size, particle shape, particle count, zeta potential, surface area, micropore analysis, pore volume distribution, total pore volume, density, surface energy, dynamic water vapor sorption, TGA, DSC, active surface area, percent metal dispersion, crystallite size, high-pressure adsorption isotherms, magnetic content, isosteric heat of adsorption, microscopy, method development, method validation, and consulting services. MPS expands Micromeritics' analytical service capabilities to meet the growing demand for contract services from the pharmaceutical industry. MPS also offers a comprehensive service program to provide instrument users with method development and method validation. Additional services include: API characterization, excipient screening, powder flow properties, batch variability, identification of critical quality attributes, and QbD/PAT implementation. MPS utilizes a DEA-licensed, FDA-registered, cGMP/GLP-compliant analytical laboratory.
Micromeritics has provided material characterization instruments and applications support to most of the world's top industrial companies and academic institutions whose applications include: pharmaceuticals, clays, ceramics, pigments, plastics, catalysts and catalyst support systems, paper coatings, geological cores, and metal powders, to name a few.
With U.S. corporate headquarters in Norcross (Atlanta), Georgia, Micromeritics has an extensive worldwide sales and service network. The company operates direct offices located in the United States, England, Germany, Belgium, France, Italy, China, and Japan. In addition, a specially trained local representative network covering over 65 countries that both sell and service Micromeritics' material characterization instruments serves the company's customers. A training facility at the Norcross headquarters offers a regular schedule of instrument operator training courses.
Micromeritics Instrument Corporation
4356 Communications Drive
Norcross 30093 USA
Tel: USA Sales: +1 770 662 3636
Fax: +1 770 662 3696
Email: ussales@micromeritics.com
Email: international@micromeritics.com
Supplier Directory Categories
Micromeritics is also listed in these categories:
Technical Articles