About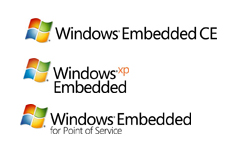 The Windows Embedded family of products consists of Windows Embedded CE, Windows XP Embedded and Windows Embedded for Point of Service. These operating system technologies have been deployed in demanding environments, and are at the forefront of providing a solid platform for the next generation of 32-bit embedded devices.

Windows Embedded is dedicated to delivering the best set of embedded tools and technology, and helping you build reliable, powerful, and intelligent embedded devices for your customers.

Choosing Windows Embedded products helps provide faster time to market, choice and control, and leading support. These attributes will help you to create competitive advantage for your products.
Faster Time to Market
Windows Embedded offers complete development toolkits and the technical support you need to quickly configure, build, and ship your device. Building on an industry-standard platform and reducing reliance on custom development helps you and your partners complete projects in fewer development hours, helping to speed your device to market and create competitive advantage.
Try Before You Buy
Give your project a head start by evaluating and testing your systems at no cost using their 120 day (180-day, for CE 6.0) evaluation kits. There is no need to pay for licenses until your products are shipped.
Choice and Control
With a choice of componentized and fully configured platforms, including a flexible set of development tools, Windows Embedded puts you in control and helps you more easily build what you want, how you want.
Build a fully configured Windows Embedded operating system using a single integrated development environment (IDE) – with either GUI based or command line interface; and avoid the hassles of assembling multiple tools from various sources, including verification that all sub tools and tasks can operate in a single environment.
Take your project to the next level with familiar Microsoft application development tools. Windows Embedded utilizes Microsoft's rich native and managed application tools including the extensive debugging capabilities of Visual Studio® 2005, Microsoft® .NET, .NET Compact Framework, or native Win32® APIs.
Leading Support
Windows Embedded support delivers reliable, expert support to your development team, helping to keep your device project on track. Other support resources to help keep your project on track include third-party products and services worldwide; training, tutorials, how-to content; online community forums such as newsgroups, online chats, web casts, blogs and newsletters and deep technical content provided by the online MSDN Windows Embedded Developer Center.
With a total of 10 years of product lifecycle support you can feel confident in choosing Windows Embedded for your device. Microsoft Support Lifecycle Policy means that Microsoft provides five years of mainstream support and five years of extended support for Windows Embedded products after their release. They're committed to your success!
Their Business Model
Windows Embedded is built on a foundation of shared success. That means they've created a licensing model that allows for low up-front investment so the majority of your expenditure happens after your device is shipping and generating revenue. They also lower your post-shipping risk with their industry-leading 10-year Support Lifecycle Policy.
According to a report by independent market research firm Venture Development Corp. (VDC):
"Microsoft's business model continues to offer OEMs a simple pricing structure and engagement model with access to as much or as little of the platform important to their device design for one price and run-time royalties for device shipments."*
*Venture Development Corporation, The Embedded Software Strategic Market Intelligence Program, July 2004
When your technical team is ready to begin development, work with a Microsoft Embedded Authorized Distributor. More than 30 distributors worldwide are trained to answer your questions every step of the way. They can help you with Windows Embedded licensing, help you estimate costs, and support you throughout purchase and licensing process.
Learn more on How to License Windows Embedded.
Supplier Directory Categories
Microsoft Windows Embedded is listed in these categories: