About
Engineered solutions for hydraulic and pneumatic applications

A long established and recognized supplier of highly engineered cylinder solutions and a manufacturer of a standard range of steel and aluminum NPFA tie-rod cylinders for both hydraulic and pneumatic applications.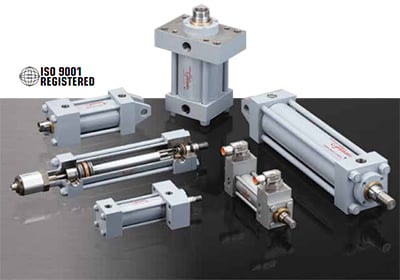 Milwaukee Cylinder, a leader and innovator in hydraulic and pneumatic actuation field since 1956, and ISO 9001:2008 certified.
Our broad product line offers solutions for virtually every possible cylinder application. We offer our customers years of experience in design and manufacture of fluid power products with special operating and design requirements.
By working directly with our customers, Milwaukee Cylinder has developed a world-wide reputation for engineeringexpertise in the manufacture of specialty cylinders. For over 50 years, Milwaukee Cylinder has become known as the company where specials are our standard.
At Milwaukee Cylinder, we operate with a spirit of innovation and creativity, dedicated to meeting the needsandchallenges of today's most demanding applications. We take pride in being a producer of High-Quality Performance Tested hydraulic and pneumatic products. Products that have been proven and tested by the worlds leading manufacturers in the harshest environments.
With our on-going commitment to research and development, as well as our worldwide sales and distribution network, we will continue to meet and exceed demanding customer requirements and provide world-class customer service. From initial design to after-sale support, we maintain the same high level of quality that our customes have come to recognized from Milwaukee Cylinder.
Supplier Directory Categories
Technical Articles