About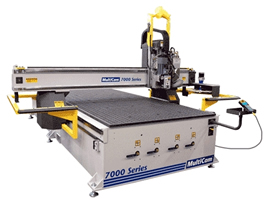 MultiCam manufactures CNC Router, Laser, Plasma, WaterJet, and Knife Cutting machines. For over two decades thousands of MultiCam cutting systems have been installed around the world. A wide variety of industries depend on MultiCam CNC systems such as cabinetmaking, furniture production, woodworking, metalworking, sign making, HVAC, aerospace, marine construction, solid surface and plastics fabrication. These diverse industries find MultiCam CNC machines to be a reliable and indispensable addition to their company.
MultiCam's philosophy is to produce machines that are easy to maintain and built to last. They have been producing automated positioning systems for more than two decades and have installed over 8,000 CNC machines in more than 50 countries worldwide. Their success has permitted them to remain an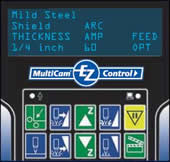 innovator in the field of CNC machinery. Companies in a wide variety of manufacturing operations depend on the high quality and reliability built into every MultiCam machine. With over 70 distributors worldwide, including 20 technology centers across North America, you can always depend on local training, service and support through MultiCam's global network of experts. Whether your shop is large or small, MultiCam makes a machine for every budget!
In January 2003, MultiCam upgraded to a new 108,000 sq. ft. headquarters/manufacturing facility located in Dallas Texas near DFW Airport, allowing expanded manufacturing capabilities and room for future growth. In 2004, they added a 40,000 sq. ft. North Texas Technology Center and demonstration/training facility just two blocks from their headquarters.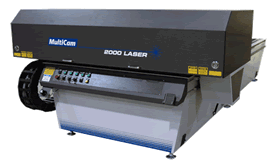 MultiCam is a leading brand in CNC cutting systems due to the high production standards they adhere to. All machines are fabricated entirely on-site, allowing them to control every aspect of the production process. From engineering conception to the final shipment of a MultiCam machine, they are able to demand a high level of quality and attention to detail, ensuring a consistently superior product.
From steel cutting to fabricating and welding, from the electrical assembly and installation to the paint and finishing - every task required to build a top-quality machine tool is controlled under MultiCam's watchful supervision.
MultiCam Vision Statement
MultiCam envisions, engineers, manufactures and markets CNC cutting solutions. Their focus is on integrating advanced technology and value into systems that are highly productive, easy-to-use and built to last. They strive toward exemplary customer satisfaction, employee career fulfillment and corporate citizenship. Success in these areas, they believe, will yield long-term benefits for the MultiCam brand, MultiCam employees and their partners.

Supplier Directory Categories
MultiCam, Inc. is also listed in these categories: