About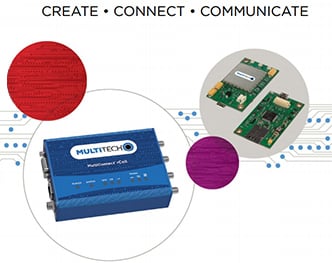 M2M Communications Device
Networking & Gateways
MultiTech designs, develops and manufactures communications equipment for the industrial internet of things – connecting physical assets to business processes to deliver enhanced value. Our commitment to quality and service excellence means you can count on MultiTech products and people to address your needs, while our history of innovation ensures you can stay ahead of the latest technology with a partner who will be there for the life of your solution.
Why MultiTech?
Superior Quality
From our US-based manufacturing plant to our countless product and process certifications, we're committed to the utmost quality in everything we do.
That's why you can find more than 22 Million MultiTech products performing essential duties for businesses around the globe.
Service Excellence
From our comprehensive portfolio to the extensive reach of our distribution network, MultiTech is easy to choose and easy to buy.
Thanks to in-house manufacturing and custom design services; broad-reaching expertise and fast, agile development we deliver customization and flexibility you simply can't get anywhere else.
History of Innovation
From the earliest analog systems, to the cellular heart of today's industrial Internet of things to the latest low-power wireless technology, MultiTech has consistently connected businesses in ways previously unimaginable – and has been doing so for more than 40 years. We have no intention of slowing down.
We're continuing our legacy of firsts with the world's first commercially deployable LoRA-based suite of communications devices.
Industries we serve
Energy
Whether you're running a local utility or delivering fuel from the source, MultiTech equipment helps keep you connected to your assets to facilitate:
Tank and pipeline monitoring
Automated meter reading
Dynamic demand response
Environmental monitoring
Emergency alerts
Agriculture
From local growers to heavy equipment manufacturers to irrigation systems suppliers, MultiTech devices can be found on farms around the world, improving both yield and efficiency by monitoring:
Soil moisture and nutrient content
Animal activity and location
Building temperature, humidity and air quality
Feed systems
Water usage
Equipment health
Healthcare
Connected medical devices are transforming how healthcare is delivered. MultiTech enables medical equipment from defibrillators to hospital equipment to home care devices for improved:
Equipment maintenance and reliability
Patient compliance
Chronic disease management
Quality of care
Quality of life
Enterprise
In today's global economy, companies are facing new challenges when it comes to managing remote offices, shops, factories and more. MultiTech helps you overcome those challenges with equipment that enables:
Wireless failover
Wireline replacement
Parallel networking
Remote equipment management and control
Facility automation
Secure data transfer
With more than 22 million devices in the field, MultiTech products can be found in countless industries and applications around the globe. Wherever you need remote access to equipment, MultiTech has solutions to help. Visit www.multitech.com to learn more.
Supplier Directory Categories