About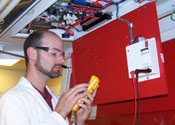 In keeping with its public health and safety mission, NSF offers electrical safety testing and certification services for a variety of product types, from electrical conduit to foodservice equipment to swimming pool pumps, and many products in between.
The Electrical Safety testing laboratory is accredited by OSHA as a Nationally Recognized Testing Laboratory (NRTL). This signifies NSF has met the necessary qualifications specified in the program regulations. In addition, NSF is accredited by the Standards Council of Canada to perform electrical testing and certifications according to CSA standards.

NSF's electrical safety testing falls into one of three main categories. Click on one of these links to learn more about the standards and products covered within each program area:
NSF's testing capacities are not limited to the USA. NSF is now pleased to offer their European, Middle Eastern and African customers the opportunity to have Electrical Safety Testing performed either directly at their own plants or at an appointed laboratory in Italy. This option will help their customers to minimize both transportation delays and general costs.
To learn more, contact an NSF representative today.
Supplier Directory Categories
NSF International is also listed in these categories: