About
NI provides powerful, flexible technology solutions that accelerate productivity and drive rapid innovation. From daily tasks to grand challenges, NI helps engineers and scientists overcome complexity to exceed even their own expectations. Customers in nearly every industry—from healthcare and automotive to consumer electronics and particle physics—use NI's integrated hardware and software platform to improve our world.
Model for Customer Success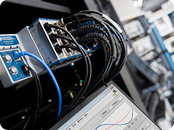 Provide Flexible Solutions
NI provides powerful, off-the-shelf solutions that engineers and scientists can tailor to multiple application needs, now and in the future.
NI offers a differentiated approach to increase productivity and decrease time to market through a seamless integration of hardware and software.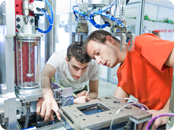 Drive Innovation
NI helps customers bridge the gap between vision and reality, so they can realize societal and technological impacts that would have once been impossible.
Awards
Elektronik Magazine: 2014 Readers' Choice Awards Winner: No. 1 in Development Software—LabVIEW
World's Best Multinational Workplaces, Third-Consecutive Year
2014 Ace Awards Presented by EE Times and EDN: STEM Impact Award Winner
Leadership
Dr. James Truchard and Jeff Kodosky founded NI in 1976. Since then, the company has grown to more than 7,000 employees worldwide with an experienced management team focused on unlocking infinite possibilities.
Supplier Directory Categories
NI is listed in these categories:
Technical Articles


What Is SC Express?
(Data Acquisition)
The NI SC Express family offers PXI Express data acquisition with integrated signal conditioning for measuring strain gages, bridge-based transducers, thermocouples, and high-voltage analog input... (
View Full Article
)