About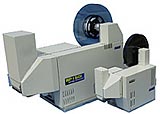 Since 1999 Nautilus Systems Inc.(NSI) has developed the most complete portfolio of machinery products for precision and accurate placement of die-cut adhesive components (DCAC). DCAC can include items such as Labels, Gaskets, Protective Films, Conductive Films, Insulators, EMI Shielding, Two-Sided Adhesives, Splinter Films, and more. All NSI Applicator products feature retracting peel edge technology that allows the Applicator to locate and capture the DCAC before removing the backing Liner so that the ultimate in placement accuracy is possible.
Products include:
Precision Plus Applicator Series - PN and RP series machines are configured for various die-cut component sizes providing the ultimate in accuracy and reliability:
Precision – Placement Accuracy as good as +/- 0.05mm (Component Dependent)
Operator Friendly Teach Pendant – 4 Line LCD with 16-Key Input Keypad
Quick Changeover – Magnetically Coupled Vacuum Chucks and Quick-Release Reel Covers
Machinery Sizing – Applicators sized by adhesive component allow customers to purchase only what they really need
Robustness – Wired Stainless Steel Peel Edge for long life
Configurability – Available in i-Series with integrated Tamp Assembly or r-Series 'robot mode' to interface with customer-provided robotics or pickers
Speed – Their patented technology, used in the RP Series of Applicators, is the fastest method available for precision placement
Encoder Feedback – Optional Encoder integration provides Applicators a closed-loop feedback system for ultimate accuracy
'Placer' Series Applicators - Based on the Precision Plus RP Series Applicators with a FOCUS ON AFFORDABILITY and featuring patented feeding and peeling technology
Precision – Placement Accuracy as good as +/- 0.20mm (Component Dependent with Optional Encoder Features)
Speed – Patented technology provides the fastest method available for precision placement
Quick Changeover, Robustness, Configurability, and Teach Pendant included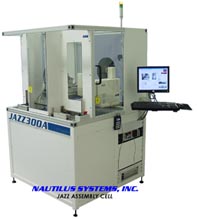 In addition, NSI's long history in custom automation enables them to provide turn-key automated assembly solutions that incorporate Applicator products with a variety of part handling and automation technologies. The configurable JAZZ Assembly Platform provides a great starting point for an integrated solution. Customized solutions are also available.
NSI Applicator Products and Integrated Solutions are installed and operating worldwide.
Supplier Directory Categories