About
The entire manufacturing process under one roof: In-house sheet extrusion, In-house tooling, In-house stamping of non-metallic components from a wide variety of industry standard materials.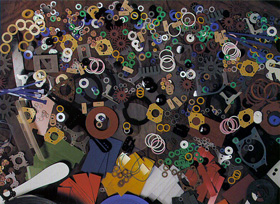 Back in 1927..., New Process Fibre Company, Inc. was founded on a desire to improve a manufacturing process. The products and the processes have both changed in the years since, but the desire for constant improvement has never varied.
Innovative Roots
The company's founder F. Carl Porter developed a new, lower cost process for turning cotton paper into vulcanized fibre. This focus expanded under the guidance of his son-in-law Henry Peters to include improvements in every part of the process of creating non-metallic stampings.
Solid Growth
Today, the tradition continues in an uncommon dedication to in-house manufacturing capability. The reason behind it is simple: if New Process performs every step itself, they can be sure it was performed at the highest standard. New Process Fibre extrudes its own thermoplastics. An in-house tool room with wire EDM capability allows the company to create its own tooling. An extensive inventory of production equipment makes it possible to complete virtually any job… from a small prototype run to an order in the millions… without outsourcing.
The third generation descendents of F. Carl Porter still run New Process Fibre Company. They make sure the same dedication to improving products, maximizing quality and maintaining cost effectiveness is still at the company's heart.
To sample this tradition of commitment first hand, contact New Process Fibre Company, Inc. for a no-obligation price estimate.
Supplier Directory Categories
New Process Fibre Company, Inc. is also listed in these categories: