About
Established in 1911, Newark Wire Cloth is a recognized leader in the wire cloth industry. Customers and competitors turn to Newark Wire Cloth for their wire cloth needs. Newark Wire Cloth takes great pride in providing the highest quality product, in many different forms, to many different markets including aerospace, pharmaceutical, food, chemical, automotive, medical, environmental, and many others.

Newark Wire Cloth Company is uniquely positioned to offer a broad selection of reliable, high quality wire cloth products and services. Whether you need roll goods, cut pieces, custom woven wire cloth or custom fabricated parts, Newark Wire Cloth is here to serve you!

Newark Wire Cloth Company Looks Back at 100 Years of Service
Clifton, New Jersey based Newark Wire Cloth Company can trace its origins back 100 years.
In this, the 100th year in business, the team at Newark Wire Cloth has weathered the shakeout period and adapted to the marketplace. While their roots are in the manufacture of woven wire, theirs is now a service-driven company where sales and customer service compliment Newark's fabrication facilities.
It is difficult to overstate the importance of wire cloth products. Every industry relies on them in some manner. Industrial wire cloth supports all the process industries such as mining, metals, chemicals, food, beverages, pharmaceuticals, petrochemicals, and plastics. It performs functions in instrumentation control, waste controls, water purification and many other applications. Simply stated, it is a critical commodity.
Historians believe that wire weaving originated in China about 4,000 years ago. In the sixteenth century the manufacture of wire-made sieves began. In the 20th century Newark Wire Cloth began advancing wire weaving from the drawing boards to "multi-national" applications.
The company specializes in the production of woven wire cloth and special products made from wire cloth. Today most fabrication includes a great variety of metals, including stainless steel and wires of a refractory nature, such as titanium, molybdenum, tantalum and tungsten.
The founders of the company, who had been associated with wire weaving since 1877, established the present firm in 1911. Today Newark Wire Cloth enjoys the reputation of being a leader in innovation in the field of wire cloth products.
As early as 1911, the company produced 130 mesh screen – the first finer-than-100 mesh manufactured in this country. In 1919, 200 mesh was introduced, followed by 250 and 325 mesh. In 1928 the company introduced yet a finer mesh: 160,000 holes per square inch (400 x 400 mesh). Today, meshes as fine as 510 x 3600 are available.
Newark Wire Cloth was also the first to market the finer meshes of wire cloth woven and Monel metal and of Stainless Steel; first to produce filter cloth with an overlap weave, double-faced, and with small wedge openings for better filtration; and first to offer gasketed filter cloth.
Presently, the company's largest single business activity is custom fabrication: fabricating a part or assembly from metal materials, to a customer's specification. This normally involves cutting, forming, and assembling (brazing or welding) metals to meet a customer's requirement. Most of this business services original equipment manufacturers – a true job-shop approach to the business.
The other activity in the wire cloth business is that of a reseller, or distributor, of cloth woven by others and purchased for resale. This includes commodity type meshes from foreign weavers.
Custom fabrication at Newark Wire is a job shop approach to business. Each customer's individual requirement has to be estimated independently, quoted, and materials purchased and manufacturing accomplished after the customer places an order.
Newark Wire Cloth has been internationally recognized to meet ISO 9001:200 and AS 9100 certification. This dual certification recognizes the company's quality management system which meets or exceeds world-class standards.
Since 1928, the firm has manufactured a line of standard testing sieves. These are analytical devices made to American Society for Testing and Materials (ASTM) specifications, and used for sizing, testing, and grading particles. The classifying media is wire cloth woven to extremely close tolerances. The sieve business is split between selling to the end user directly and distributing through laboratory supply businesses.
Another business area involves supplying filtration/separation products and components. In 2001 the company introduced a Sanitary Strainer product line featuring SaniClean Strainers, which includes inline strainers, side inlet strainers, wire mesh overscreens, and custom fabricated strainers for the food and beverage industries..
The management team of Newark Wire Cloth including Richard Campbell, James Campbell and Robert Lucki are poised to face the coming years with the same fortitude the company has brought to the table over the past 100 years.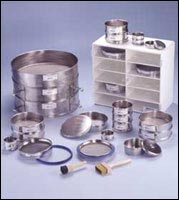 Products Include:
Wire Cloth Baskets
Test Sieves
Woven Wire Cloth
Strainers
Fabricated Wire Cloth Products
Newark Wire Cloth Company aims to provide helpful and timely service, to supply the highest quality wire cloth products, and produce top quality fabricated parts at competitive prices.
ISO 9001:2000 Certified.
Supplier Directory Categories
Newark Wire Cloth Company is also listed in these categories:
Technical Articles