About
Industrial Washers from Niagara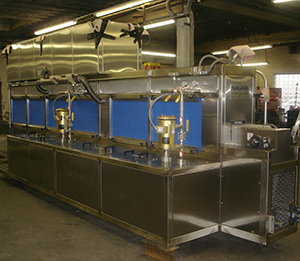 NIAGARA Systems has been solving cleaning problems for customers around the world since 1934. We custom design and manufacture Industrial Washing Systems that include small cabinet style machines up to large belt and monorail systems.
Industrial Washers and Ovens from Niagara fill a wide variety of functions. Cleaning debris from a machined part, removing oils and films from parts, cleaning delicate glass products such as fluorescent tubes and light bulbs. Nuclear fuel rods need special cleaning inside and out during their manufacture. Baking sheets, pans, and many common household products require cleaning before finishing.
Industry has a real need to address cleanliness that is sometimes not apparent and often difficult to overcome. Before pistons can be coated with Teflon for increased engine life they must be thoroughly cleaned or the coating will "bubble" and burst during the curing process. Often, chemicals must be used in early stages, then neutralized and removed in later stages of cleaning. We overcome these issues with dependable well-built washers and ovens based upon 80 years of experience.
Supplier Directory Categories