About
In 1956 Nichiha Corporation in Japan began as a manufacturer of hardboard products supplying the automotive industry. Fueled by their superior manufacturing technology and constant drive for innovation, Nichiha developed fiber cement claddings and now offers over five-hundred different textures and colors that are used for both commercial and residential applications.

Nichiha Japan is recognized worldwide for their continuous advances in manufacturing and material development and is unquestionably considered the world leader in fiber cement technology. Manufacturing its products in twelve plants across Asia and the US, Nichiha is at the forefront of the industry in both product production and technological development.

Beginning in 1998 with the location of their headquarters in Atlanta, Georgia and more recently expanded with the opening of their fiber cement manufacturing facility in Macon, Georgia; Nichiha US is a partnership between Nichiha Corporation and Sumitomo Corporation of Japan and America. This union created a US operated company that is poised to fundamentally change the face of the exterior cladding market.

Nichiha produces high quality fiber cement products in a variety of textures, colors and styles. Nichiha produces high quality fiber cement products in a variety of textures, colors and styles.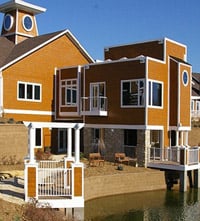 NichiProducts™ - NichiBoard™ lap siding, NichiPanel™ vertical siding, NichiShake™ individual shake boards, Sierra Premium™ Shake and Smooth lap siding boards, NichiSoffit™ and NichiTrim™ all available in classic smooth or cedar texture.
Nichiha Panel Products – Brick: Vintage, Newport and Canyon Brick textures; Stone: Field Stone, Quarry Stone, Sandstone and Cinderstone; Block: Architectural Block.
Build Better…. Build Green
At Nichiha their mission for over 50 years has been to utilize the natural resources entrusted to them with the utmost environmental diligence and which maximizes recyclability, all in an effort to reduce our world wide impact on the environment; while maintaining the highest product performance standards.
At Nichiha, utilizing the best and latest technology to produce their fiber cement products means; that they provide a product to the construction industry, which is intrinsically better for the environment. This is the world wide environmental vision for Nichiha. They not only embrace this vision but continually seek ways to improve their processes that will further reduce their impact on the environment. Since 1956 and long before being "Green" was important, the responsible and respectful stewardship of their natural resources has always been and will always continue to be at the forefront of their corporate objectives.
Supplier Directory Categories
Nichiha USA, Inc. is also listed in these categories:
Technical Articles