About
Norplex-Micarta is the leading global supplier of high performance thermoset composite laminates to OEMs and fabricators. Building upon the IL Norplex expertise in flat sheet laminated plastics, and the Micarta technology in sheet, round tubing, and molded rods and shapes, Norplex-Micarta manufactures the highest quality specialty sheet products, pre-pregs, rods and molded shapes, and tubes available.
Founded in 1945, Industrial Laminates/Norplex, Inc. developed its offerings from basic plastic items to a line of advanced industrial laminated plastics. Over the decades, Norplex cultivated its plastic laminate technology to service the construction, transportation, and aerospace industries while expanding its presence in North America, Western Europe, and the Pacific Rim. Meanwhile, Micarta began its legacy forty years earlier in 1905 when George Westinghouse trademarked several mica patents under the Micarta name. Over the next century, Micarta pioneered decorative laminate applications for uses as
diverse as household furniture to space shuttle components.
In 2003, the merger of IL/Norplex, Inc. and Micarta Insulation Materials Division brought together two giants of the laminate industry, each with a legacy of innovation. Norplex-Micarta's vast product line of sheet, rod, tube, and molded parts services the oil & gas, power generation, military/aerospace, construction, heavy industry, electronics, electrical devices, medical devices, and transportation markets throughout the world.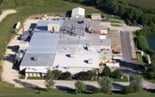 Headquartered in Postville, Iowa, the Norplex-Micarta plant is outfitted with state-of-the-art equipment and is staffed with more than 200 skilled workers to manufacture the highest quality thermoset composite laminates available. Norplex-Micarta also maintains an operation in Shanghai, China. Micarta Composite Material (Shanghai) Trading Company, Ltd. serves as the Norplex-Micarta customer support center for the entire Asia-Pacific region.
In 2013, Norplex-Micarta opened a new factory in Changzhou, Jiangsu, China. Changzhou Micarta Composite Material Company, Ltd. will continue the Norplex-Micarta tradition of high quality, innovative new products, and excellent service for customers in China and beyond.
Supplier Directory Categories
Norplex-Micarta is also listed in these categories:
Technical Articles

Norplex-Micarta Sheet Weight Calculations
(Composites, Textiles and Reinforcements)
Norplex-Micarta Sheet Weight Calculation Below is a table which gives a "weight factor" for determining the weight of a laminated composite sheet product, depending upon the thickness, sheet size and... (
View Full Article
)

Out in the Cold
(Refractory, Fireproofing and Thermal Insulation)
Sally Zhou and Rick Lowery examine the effectiveness of glass-based insulation in cryogenic applications. (
View Full Article
)