About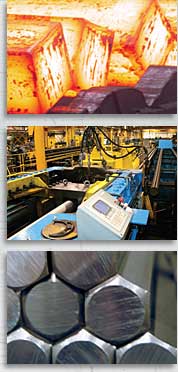 The Nucor Cold Finish Group is your comprehensive source for quality cold finish bars. When taken as a whole, their production plants offer a huge range of products, from the smallest diameter wire products, to sizes up to six inches in diameter. A variety of processes, capabilities, grades and alloys result in a large number of combinations. But if you have a special requirement or unique situation, don't worry: backed by the resources of Nucor, the Nucor Cold Finish Group has the technical expertise to provide you with a bar that meets your particular application.
There's no doubt about it: you need quality components if you want to make a quality product. You need bars with uncompromised accuracy in size, finish and straightness. The Nucor Cold Finish Group starts by using only SBQ (Special Bar Quality) hot roll steel from Nucor Steel and other suppliers. And that's only the beginning.
It continues throughout every aspect of bar production:
TS 16949 or ISO certifications are maintained at all plants
In-line testing is performed at critical stages of the production process
On site physical testing laboratories
Degreed metallurgical engineer on staff
Continuous review, evaluation and improvement of their practices and processes
With Nucor labs on your side, you are assured of a quality product and critical, high-level technical support when you need it.
Nucor Cold Finish wasn't always the largest cold finish producer in North America. In fact, like their parent company, Nucor Corporation, their beginnings were small. But, they have grown to become a cold finish producer that has numerous production plants and offers the widest range of products you can find from one manufacturer. And they know exactly how they got here: by building partnerships with their customers and providing them with quality products, priced right and delivered on time.
Supplier Directory Categories