About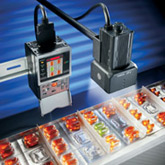 As one of the world's largest and most trusted brands in manufacturing and industrial automation, Omron's sensor and controls technologies have been improving your productivity, product quality, and operator safety for more than 70 years.
With more than 24,900 knowledgeable employees worldwide with proven engineering expertise, Omron delivers efficient, cost-effective industrial automation solutions to any manufacturing challenge.
"In 2006, Omron sales totaled $6.3 billion, and ranked #556 of Industry Week's IW1000 World's Largest Manufacturers."
Products
From advanced, open control solutions and networking to smart, self-teaching vision sensors, Omron has the products and services to keep your machines and factories on-line.
Programmable Controls (PLCs)
Industrial Networking & Wiring Solutions
Sensors for any Application
Vision Systems & Sensors
Operator Interfaces & Displays
Process and Temperature Controls
PCB Inspection & Repair Systems

Timers and Counters
Digital Panel Meters
Power Supplies
Auto ID Systems
Servo Drives, Motors and Inverters
DeviceNet Products, Remote I / O
System Software - Config & Custom
Service Plus™



Omron recognizes the increasing complexity of industrial automation systems, and created Service Plus™ to deliver expert engineering, installation and maintenance services in addition to training, customer service and technical support. They can help you reduce the time and cost of system design, engineering, start-up and downtime to maximize your plant's productivity.
Service Plus™ offers:
Online support
Telephone support services
Training services
Repair and warranty services

Engineering services
On-site support
Custom products and systems
Downtime risk assessment
Diverse Expertise
Packaging & Material Handling
Measurement & Gauging
Track & Trace
Quality Improvement
Industries Using Omron:
Electronics & Small Parts Assembly
Semiconductor
Pharmaceuticals & Cosmetics
Food & Beverage Packaging
Automotive

Supplier Directory Categories
OMRON Automation and Safety is also listed in these categories:
Technical Articles