About
Omtec PBT® Ball Transfers are not just another ball transfer.

Convert your existing work benches into ergonomic workstations with Omtec PBT drop on replacement tops. Primary areas of use are progressive assembly lines, packing and shipping lines, scissor lifts and work cells.
Application is limited
only by your imagination!
Drop in PBT Strips integrate work benches with conveyors...

At the flick of a switch Omtec's unique PBT Transfers raise above a work bench surface and/or conveyor rollers to allow minimal effort movement of items onto and off of the work surface. At the same time it allows the item to be oriented and positioned in a convenient location on the work top.
Flip the switch again the Omtec PBTs retract and the item is firmly located in a stable position on the actual work surface. Now a required task may be performed on the item without it moving around!
Omtec PBT Transfer Strips are also ideal for roller conveyor to conveyor transfers.
View Omtec PBT Ergonomic Transfer Workstation Video.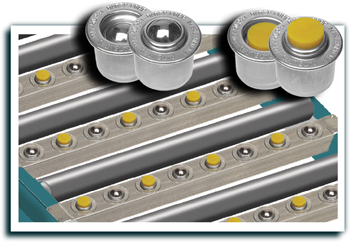 Omtec PBT Transfers and PPD Positioner Pads are another unique solution.
Economical Drop in strips fit virtually any roller conveyor.
Conveniently position items on the Omtec PPD Positioner Pads in a firm stable location so they will not move while a task is performed on them!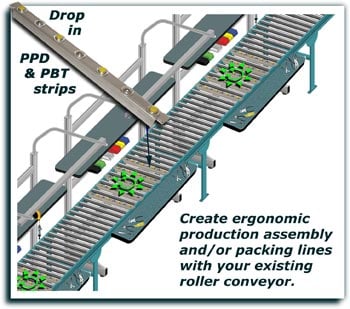 1) Item moves on the conveyor rollers to a position over the Omtec PBT and PPD Positioner Pad strips.



2) Operator raises the Omtec PBTs above the rollers to orientate and position the item in a convenient work location.



3) Operator then raises the Omtec PPD Positioner Pads above the PBTs and rollers, firmly positioning item for the required task to be performed.
View Omtec Ergonomic PBT and PPD Conveyor Workstation Video.

Put Omtec's extensive field experience to work for you!
Visit Omtec's web site for over (30) pages of innovative ergonomic solutions.
Omtec PBTs and PPDs are so unique they are covered under one or more U.S. and international patents © Copyright Omtec Corp 2000-2010
Supplier Directory Categories