About

On-Demand ERP is the leading provider of ERP, MRP, SCM, Sales and Manufacturing software solutions. They provide software and professional services that increase the productivity of manufactures, job shops, fabricators, and many more types of businesses and industries. Sulzer's solutions combine their highly skilled and talented development team with industry leading tools and technology.
On-Demand ERP's software is the premier job shop software package designed for job shops and made-to-order manufacturing companies. They have helped shops automate their business process and become more productive and profitable with their innovative shop management software system.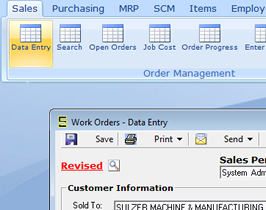 On-Demand ERP's Products & Solutions Include:
ERP Solutions
Intuitive process tracking combined with a customizable reporting engine come together in On-Demand ERP Business Suite to form the most powerful and complete software suite for custom manufacturing shops. On-Demand ERP Business Suite easily handles repetitive tasks or custom one-off jobs. Jobs are processed and analyzed in a timely and organized manner. On-Demand ERP Business Suite utilizes barcode technology to provide accurate and fast data collection.
ACE Estimating
For Job Shops, estimating the prospective cost of a job is one of the most influential steps towards determining the profit margin of that job. However this critical step is one of the most overlooked in the Job Shop industry.
No software package can be successfully implemented without proper training. On-Demand ERP's experienced technical support staff can identify the best way to get your shop "up and running" on their software solutions in the shortest time possible.
Supplier Directory Categories
On-Demand ERP is listed in these categories: