About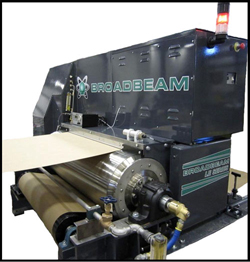 PCT provides the most innovative and reliable industrial electron beam systems available. Our ebeam equipment is used on printing presses, coating and laminating lines, coil coating lines, and a variety of specialty applications. Team PCT also includes a highly skilled Innovation Group. We define and deliver solutions to improve manufacturing operations. Our expertise includes custom machine building, industrial automation, engineering services, and equipment fabrication.
PCT Engineered Systems is an original equipment manufacturer of electron beam systems. Our systems combine the solid historical technology of the BroadBeam product with the creativity provided by the Company's Innovation Division. This results in electron beam systems that are more reliable, efficient and effective.
PCT offers BroadBeam electron beam systems from 15 kV to 300 kV. This range allows the systems to be used in many applications including printing, converting, laminating or cross linking to name a few. BroadBeam customers worldwide are supported 24 hours a day by our professional and responsive parts and service team.

PCT Engineered Systems has been awarded the 2012 Better Business Bureau's annual Integrity Award. PCT was one of five local businesses honored at the Better Business Bureau's annual Integrity Awards luncheon and awards ceremony on April 26.
"The culture, work ethics, honesty and integrity that drives the Midwest and particularly Iowa has allowed us to become a very successful company," PCT President Terry Thompson noted. "These core values come out every day in the things that we do. A company that is driven by integrity has distinct advantages when dealing with the many different cultures of the world, as we do."
Supplier Directory Categories
PCT Engineered Systems, LLC is also listed in these categories: