About
In every industry there is a leader - a company that stands out among its competitors. Through hard work, superior service and investments in time and technology, they become known as the unquestioned best in the field. Since 1967, PSI Repair Services, Inc. has been the leader in industrial and process component repair. Over the last three decades, they have grown to be the largest independent component repair company in the world. And for some very good reasons; beginning with their philosophy of quality testing every component they repair, and continuing through their commitment to service, no other repair company in the world can match PSI's depth and variety of repair capabilities.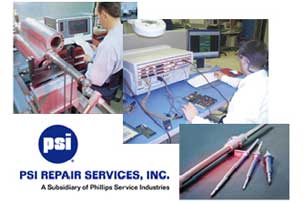 PSI Repair has been decorated by the United States Congress for their services on behalf of the Gulf War effort. They've been named by Automotive News Magazine as "The most innovative service supplier in North America." They're a two-time applicant for the prestigious Malcolm Baldrige National Quality Award, and they've earned ISO 9001 Certification for their repair services. Currently, they rank third on Crain Communication's list of Michigan's leading technology-based companies. But of all the awards and recognition they've won over the years, what they're most proud of is the trust their customers place in them. From Fortune 500 companies to the two-man machine shop, customers come back again and again because they know that PSI Repair will respond quickly, professionally, and at a reasonable price.
For complete and professional service on your equipment, there is one clear, best choice. That choice is PSI Repair Services, Inc.
Supplier Directory Categories
PSI Repair Services, Inc. is also listed in these categories: