About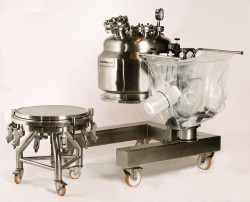 Powder Systems Limited (PSL) is an international manufacturer of filtration, drying and complete containment solutions. We have been supporting pharmaceutical, biopharmaceutical, chemical, specialty chemical and laboratory industries for 24 years. Our worldwide customer base contains industry leaders including Pfizer, GSK, BMS and Sanofi-Aventis.
PSL's solutions enable clients to bring new generation drugs into the market place faster, using the latest technology in containment and production equipment.
We are an original pioneer of containment and hold a wealth of experience designing and engineering advanced containment processes for highly potent and valuable products including; sterile, oncology, hormone and many other pharmaceutical compounds. PSL provides a full range of filtration, drying and containment products from small-scale production to full process systems.
Global Operations
Powder Systems Limited was founded in 1989 in Liverpool, UK and is an original pioneer of pharmaceutical containment. Business growth over the years has allowed over 1,200 PSL installations worldwide.
To meet the demands of increasing global operations we have adapted our business structure, operating as one company across the globe. We have operations in the UK, USA, France, Czech Republic, Japan and India with plans for South and Central America.
Our Approach
Powder Systems Limited (PSL) takes your vision and translates it into your project, our technical engineers work with you to provide innovative solutions that complement and enhance your process and application.
We provide 3D models and full scale product mock-ups for ergonomic assessment and placement of your process equipment prior to production. Our clients can feel confident that they are receiving the most suitable solutions, designed and engineered using the latest technology by a reliable, experienced team of professionals.
Our Team
PSL's team of multi-national professionals sustains a culture that values engineering innovation and excellence.
Our award-winning engineering department works closely with our process team to successfully transform best practice process designs into production. All control systems are designed and built by our in-house control engineers, interfacing new equipment where necessary.
Supplier Directory Categories