About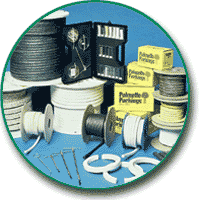 Palmetto Packings is a leading manufacturer of high-quality packing material and tools for pumps and valves. With more than 100 years of demonstrated material expertise, they deliver premium packing solutions to solve demanding challenges across a wide variety of industries. From braided, compression and mechanical packings to carbon, aramid and vegetable fiber gasket sheets, you can trust Palmetto to keep your business running. And with a variety of packing tools, such as extractors, hooks and cutters, Palmetto can manage your most critical sealing applications.
Palmetto offers a full range of pump and valve packings using acrylic, flax, ePTFE/Graphite, carbon, graphite, aramid, PTFE, FDA compliant, flexible graphite, 100% GFO®, fiberglass, babbitt, aluminum and other materials.
With a focus on high-performance braids for a wide variety of markets, Palmetto delivers a diverse product portfolio around the world, from North America to Asia and Europe. Their pioneering materials include both heat dissipating aramids such as Zenar™ as well as highly effective impregnants and fillers such as Impregloid™ and HDY™.

Palmetto remains at the forefront of industrial improvements, developing new packing materials for their customers. They are committed to bringing you the most effective packings on the market and will continue investment in new solutions to meet your most critical sealing requirements.
Palmetto Packings is a wholly owned subsidiary of Greene, Tweed & Co., a global leader in innovative, custom-engineered solutions for the aerospace, oilfield, petrochem & power and semiconductor & solar industries.
Supplier Directory Categories
Palmetto, Inc. is also listed in these categories: