Profile Home
About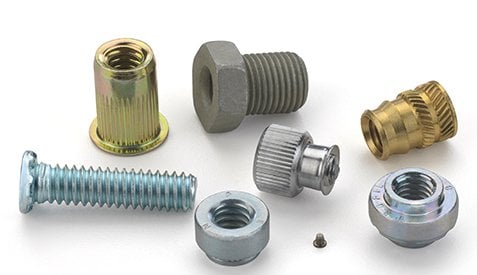 PennEngineering has enjoyed a sustained history as a global leader in the fastening industry since our founding in 1942. PEM®, the company's leading brand has been recognized as the premier product in the thin sheet fastening industry for over 70 years. Today, our expanding portfolio of fastener designs and technologies continues to keep pace with the challenges presented by an ever-evolving marketplace.
Our solutions and engineering expertise benefit from ongoing investment in research, new product development, and strategic locations around the world. Our customers gain the benefits accrued from our worldwide presence grounded in "local" access and, as a result, we remain the "go-to" fastening resource for virtually every industry, including the electronics and computer, data/telecom, medical, automotive, marine, aerospace/avionics, and general manufacturing categories. No challenge is too big or too small.
PennEngineering is strongly supported by manufacturing and technical facilities in the United States, Europe, and Asia and a global network of authorized engineering representatives and distributors. All are well-equipped to deliver timely and reliable solutions wherever and whenever required.
A spirit of fastening & engineering innovation. Leading by design.
When K.A. Swanstrom founded Penn Engineering & Manufacturing Corp. in 1942, he did so with a revolutionary new product: an easy-to-install, self-clinching fastener that provides load-carrying threads in metal sheets too thin to be tapped.
At first, Mr. Swanstrom produced his innovative design with four machines in a Doylestown, Pennsylvania garage. This simple operation soon gave way to a modern facility in Danboro, Pennsylvania because manufacturers and engineers alike recognized the benefits of self-clinching fasteners. They not only reduced time, labor, weight and inventory on many assembly jobs, but they also opened up a whole new world for engineers and designers, making a wide assortment of thin-metal designs possible for the first time.
Industry-wide acceptance led to earnest production of self-clinching fasteners shortly after World War II. As industry's need to hold together ultra-thin and ultra-light metals grew, so did the product line. Over the years the original self-clinching fastener design was modified to meet hundreds of new design applications.
Today, PennEngineering is a global company and industry leader with manufacturing facilities in Danboro, Pennsylvania; Winston-Salem, North Carolina; Corona, California; Wilmington, North Carolina; Galway, Ireland and Kunshan China. Our products are sold worldwide through an extensive channel of engineering representatives and distributors.
Visit PennEngineering at Upcoming Tradeshows
LinkTool™ Group brings quality, cost effective tooling and machine part solutions to fastener and component manufacturers across various industries. As a premier fastener manufacturer, PEM is also an expert at the design and manufacture of precision tooling for heading and screw machine operations.
Products


Our established and respected brands effectively define our experience and capabilities, as well as the underlying reasons for our successful relationships with our valued customer partners.
PEM® brand fasteners utilize self-clinching, broaching, flaring, surface mount, or weld technology to provide strong, reusable, and permanent threads and mounting points in thin sheet metal or P.C. board materials.
microPEM® fasteners are ideal for today's compact electronics. Applications include; wearables such as smart watches, laptops, notebooks, tablets, smart phones and hand held devices.
PEMSERTER® presses are designed to safely, reliably, accurately, and quickly install PEM fasteners. No matter how complex or simple an installation challenge may be, using the PEM fastener and PEMSERTER press system will provide you with quality results.
PROFIL® fasteners and Installation Systems develops nuts and studs which are fastened to metal parts or panels by means of a riveting, piercing or pressing process. In addition, PROFIL designs and manufactures automated feeding equipment for in die press shop applications and assembly line solutions to meet the individual production requirements of its customers.
PennAuto™ fastener products offer a unique manufacturing and distribution methodology based on manufacturing of high strength components and fasteners in PennEngineering's wholly owned manufacturing subsidiaries in Kunshan China, supported by sales, product inventory, distribution services and customer technical assistance strategically located in close proximity to its global customers.
ATLAS® brand blind threaded inserts and tools provide strong and reusable permanent threads in sheet materials where only one side is accessible.
SI® brand inserts employ press-in, molded-in, or heat/ultrasonic installation methods to provide strong, reusable, permanent threads in plastic materials.
The STICKSCREW® system is a unique small screw installation system which eliminates expensive screw handling equipment and loose hardware. The screws are tightened to an exact torque as determined by the stick/screw design.
Technical Articles

PEM® - REF/ Testing Clinch Performance
(Industrial Hardware)
Self-clinching performance includes three primary measures of mechanical strength. These include push-out, torque-out, and side load. Thread fit will also be examined as a dimensional check as it... (
View Full Article
)