About

PICO Chemical Corporation is a full-service ISO 9001:2008 certified manufacturer of value-enhanced specialty chemicals and lubricants to clean, condition, lubricate and protect industrial processes. They specialize in serving the coatings, metalworking, steel, and associated manufacturing and processing industries worldwide. PICO is world renowned for their work in water based cleaners and strippers of coatings, resins, inks and adhesives.
The PICO Difference
PICO views their relationship with their customers as a partnership. With the highest level of integrity, their priority is to provide the best products and services to meet the needs, requirements and special demands of every customer. They provide timely solutions and support services for all applications, including unique problem areas. PICO will custom formulate products for specific volume applications.
PICO's products are formulated to deliver exceptional performance and produce long-term cost efficiencies through:
Dependability
Enhanced Productivity
Reduced Consumption
Reduced Manufacturing Costs

Technical Assistance
Continuous Improvement
Environmental Compliance
Customer Satisfaction
Quality Second to None
Manufacturing quality is assured from the time a raw material is approved to the final finished product.
PICO takes every possible step to ensure the consistency of their products: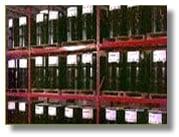 ISO Certification
Commitment to procedures and instructions
Products packaged in new containers
Quality-trained and experienced personnel
All manufacturing procedures analyzed and controlled regularly
Manufacturing done in stainless steel mixing tanks to ensure purity
Raw materials and finished goods stored indoors for extra protection
Laboratory
PICO's modern, fully-equipped laboratory is a key component of their manufacturing process. Experienced technicians on staff perform quality control, technical evaluation, maintenance analyses, research and development. PICO's chemists respond quickly with this information to assist customers with their processes.
Located for Service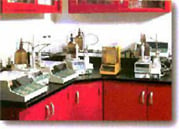 PICO's general office, manufacturing and warehouse facility is ideally located just south of Chicago, Illinois, and is convenient for shipping by truck, rail, water and air to their customers both domestic and international. The majority of their products are ready to ship from stock and most special orders can be manufactured and shipped within 48 hours. Customers appreciate PICO's prompt service.
Single-Source Convenience
In addition to their complete line of chemical solutions and lubricants, PICO offers a wide variety of related products and application support equipment.

PICO provides expertise in specialty fluids such as:
Neutral Based Rust Removers

Styrene Dissolvers

Corrosion Preventives

Hot Steel Casting Lubricants

Anti-Spatter Welding Coatings

Spray Booth Peelable Coatings

Non-Interfering Glass/Fiberglass Cutting Fluids

Reusable Water Based Cleaning Solutions

Synthetic Solutions for Metal Cutting/Forming and Drawing

Chlorine Free and Non-Ozone Depleting Cleaning Solvents
If you have a particular need for chemicals or lubricants, contact PICO -- they are at your service.
Supplier Directory Categories
Pico Chemical Corp. is also listed in these categories: