About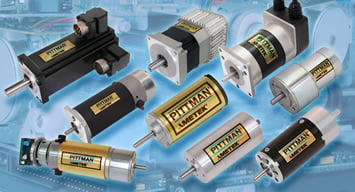 Pittman Motors is part of the Ametek Precision Motion Control division. Pittman brush and brushless DC servo motors are used in a wide variety of high tech motion applications including lab automation, medical devices, communications equipment, semiconductor processing equipment, aerospace systems, and many other applications where precision motion is critical.

The Pittman motor line spans a wide variety of dc motor sizes and technologies ranging from tiny brushless slotless dc motors used in high speed medical applications to large NEMA frame dc servo motors used in sophisticated automation equipment. If there's a need for precision motion, more than likely there's a Pittman motor to meet your requirements.
Pittman Express - Online Ordering for 24 Hour Prototype Shipment

Standard Options Available
Pittman motors are available with a variety of standard options including spur and planetary integrated gearboxes, optical encoders, and fail-safe brakes.
Experts in Customization
Pittman Motors can be customized to meet just about any engineering need. Options include unique shaft configurations, various bearing systems, output devices such as pinions and gears, special leadwire assemblies, EMI/RFI suppression networks, optimized motor windings, permanent magnet options, and various brush materials. For application assistance, please contact Pittman engineering at 267-933-2105.
Supplier Directory Categories
Pittman Motors is also listed in these categories: