About
Pneumadyne, Inc. is an ISO 9001:2008 certified manufacturer of pneumatic components and pneumatic control systems. Designed and manufactured in the USA, their directional control valves, fittings, manifolds, solenoid valve assemblies, air nozzles and custom products are relied upon for fluid control throughout a wide variety of industries. Pneumadyne's extensive product offering features a variety of sizes and configurations to fit numerous application requirements.
| | | | |
| --- | --- | --- | --- |
| | Directional Control Valves – Pneumadyne manufactures an extensive offering of 2, 3 and 4-Way valves to ensure that your plumbing, flow and operating needs are met. For installation convenience, a variety of configurations are available with port sizes ranging from 10-32 (F) to ¼ push-in. | | |
| | Solenoid Valves – Direct acting solenoid valves are a cost effective, space saving solution for the use of single or multiple valves. Pneumadyne's versatile offering features a variety of voltage, wattage, connector and mounting options to ease valve selection and installation. Solenoid Operated Valves are also available for systems requiring higher flow rates. | | |
| | Circuit Control Valves – Flow Controls, Needle Valves, Check Valves, Pressure Regulators, Shuttle Valves and Quick Exhausts feature multiple porting options including 10-32 and 1/8 NPT threads and 5/32 and ¼ Push-in connections. | | |
| | Fittings – Pneumadyne's extensive offering of miniature pneumatic fittings accommodates numerous connector and tubing requirements. Choose from barbed, threaded and push-to-connect fittings in a variety of sizes and configurations to connect components in any pneumatic system. | | |
| | Manifolds – Pneumatic manifolds provide a convenient junction point for the distribution of fluids or gases. Two to ten station aluminum, brass, stainless steel, nylon and polypropylene manifolds are available with port sizes ranging from 10-32 (F) to ¾ NPT (F). | | |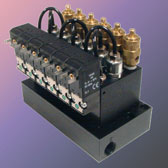 Custom Pneumatic Products - Providing fluid handling solutions that meet their customer's defined performance requirements has been a priority since Pneumadyne's inception, setting them apart in the miniature pneumatics industry. Their experienced engineers welcome the opportunity to assist in the design and manufacture of pneumatic control systems and custom directional control valves, fittings or manifolds. Whether you need standard or custom products Pneumadyne takes the time to understand your application and recommend components and systems that best fit your requirements.
Visit Pneumadyne at www.pneumadyne.com or contact their Customer Service Department today.
Supplier Directory Categories
Pneumadyne, Inc. is also listed in these categories: