About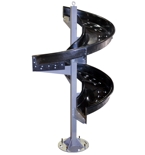 Fry and Co. was formed in 1957 by Charles and Ed Fry, and the world's first belt power curve conveyor was invented, built and sold that year for an airport baggage handling facility. Portec purchased Fry and Co. in 1968. Since then, along with many enhancements to the original belt power curve, a number of other specialized material handling products have been added.
Portec's specialty material handling equipment has been incorporated in airport baggage handling systems, mail and parcel handling, manufacturing, retail distribution, food processing facilities, cement plants, fertilizer plants, salt plants, masonry plants, etc. around the world. Portec has produced equipment to handle a wide range of products from light electronics to refrigerators. Portec often designs custom heavy duty equipment to handle difficult or unusual applications.
Portec conveyors offer several features that differentiate our equipment from others: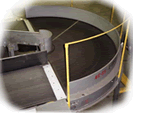 Heavy Duty Durability: All metal construction (never any inferior products in the frame, slider bed or components)
Simple Maintenance: Quick change belts and standard bearings are just a few features that are part of the design of our equipment
Quiet Operation: Extensive sound attenuation has been incorporated into Portec equipment
High Speeds: High speed operation has been a part of Portec's capabilities for over 20 years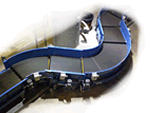 The fact that Portec conveyors built and installed in the late 1950's are still operating on a daily basis even in harsh and unforgiving environments offers substantial evidence to the durability and overall function of Portec Flomaster conveyor units.
Portec offers a comprehensive range of spare parts to suit all Portec conveyors. Competitive quotes are also available for all types of conveyor belts, including belts for powered curve conveyors that are not manufactured by Portec. Your parts are usually shipped within 24 hours.
Supplier Directory Categories
Portec is listed in these categories: