About

From small beginnings PowerConnections has grown rapidly and is now recognized as a significant supplier of single-phase electrical connection products to International markets. We are able to supply from warehousing and factories in the Far East and Europe and have distributors worldwide for its unique range of converter plugs.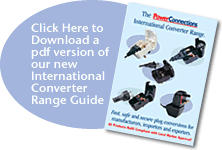 PowerConnections business aim is to provide a complete product offering for OEM's needing to get single-phase power from a socket to an appliance. The Company's product portfolio consists of International Power Leads, Rewireable Plugs, Converters and Connectors. The product range is being continually extended via internal product development and sourced products from quality suppliers.
We pride ourselves on providing a fast, flexible, international service. Our clients include Sony's factories worldwide, Black and Decker, Whirlpool, Ricoh, Olivetti and Dixons Store Group sub-contractors. We work very closely with our customers to ensure continual production flow for the lowest logistical cost.
The Company is best known for its unique and internationally patented range of Converter Plugs. These are manufactured in three partner factories in China. These products are stocked in the Far East, Australia and UK. In the UK we also stock an extensive range of UK, European, American, Australian, Japanese and other International Powerleads. All with C5, C7 and C13 connectors and to stripped end. We are able to customize these cord sets to meet customer's requirements.
The company also manufactures an innovative range of energy saving and convenience socket devices. These devices all work at the socket level and allow the user to control the socket through various forms. The newest product in this range is a wifi controlled socket that allows the user to control, monitor and group sockets remotely through a wifi connection. Alongside this we offer a GSM socket solution perfect for remote locations, this product enables the user to SMS the socket to control it. It also contains a temperature monitor which enables the user to monitor the ambient temperature of the area and be controlled however necessary. These products are all available through our Energenie Brand found at www.energenie4u.co.uk
All products are manufactured to the appropriate International Standards and product quality is key for what are safety critical components. All our manufacturing facilities have BSI Kitemark licenses and are ISO 9001 approved. The converter products have also been separately assessed and approved by Sony Group with whom we have achieved Green Partner status.

Supplier Directory Categories
PowerConnections is also listed in these categories: