About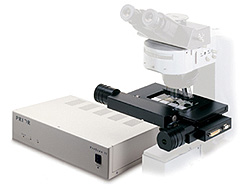 For over 80 years, Prior Scientific has been designing and manufacturing precision optical systems, microscopes and related accessories for a wide variety of applications. Prior¹s unsurpassed commitment to customer service and reputation for high quality products has positioned Prior Scientific as a leading manufacturer in the industry. Continued dedication to these values, combined with decades of microscopy related experience establishes a solid foundation for the development of an advanced range of motorized stage systems for microscopy and image analysis applications, a full range of stereo and industrial microscopes, fiber optic inspection equipment, motorized filter wheels, custom optical systems and a wide range of microscopy accessories for a variety of applications.
In addition, Prior Scientific has successfully developed many innovative and custom OEM products for their industry partners. Any opportunities to develop, design or manufacture OEM products are always considered. At Prior Scientific they control the design and manufacturing process for all their automated microscopy products. This way, they can be sure of offering the most flexible service. This approach along with their commitment to customer service means that Prior Scientific is uniquely positioned to provide complete systems to match your exact specifications. The Design Engineering Department employs the latest in Computer Aided 3D modeling along with many years experience in the design and manufacture of scientific instruments. It is here that quality and reliability are designed into their products.

Advanced CNC machines and Computer Aided Manufacture systems are used to produce high quality components. In assembly, experienced instrument makers build complete stage and controller assemblies with care and attention to detail. It is this blend of skills, experience and flexibility that have established Prior as one of the world¹s leading manufacturers of automated microscopy products. Whether you need a standard product or a custom design, a single unit or OEM quantities Prior Scientific is the right choice!
Prior's dedication to customer service has led to the establishment of Prior Scientific as trusted supplier for the industrial, scientific, and educational markets. The company headquarters are located in Rockland, Massachusetts, just south of Boston.
Supplier Directory Categories
Prior Scientific, Inc. is also listed in these categories:
Technical Articles