About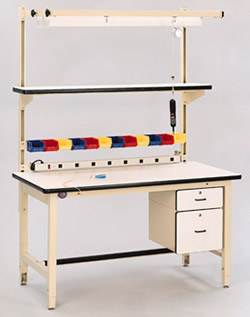 Pro-Line offers a diverse variety of workbench systems to make your production and laboratory work flow more smoothly, and maximize your use of ergonomic engineering in the process. Value and smart engineering are kindred spirits at Pro-Line.
Next to the common cold, no problem accounts for more lost work days (or as many doctor visits) as the aching back. Bureau Statistics data show that lost workdays from all injuries has increased from 62.1 days per 100 workers in 1978 to 74.2 workdays in 1989.
Lost work days and hours are only part of the problem. Workers trying to make their body fit the task rather than the task fit their body are losing productivity due to fatigue every hour they are "on" the job. Measuring hours lost on the job is far more difficult.
The first line of defense against any CTD is to try to prevent the injury before it starts. In the case of back injuries, which are the most disabling and costly ones, not only to industry but to the employees affected, primary prevention is complicated by our poor understanding of the etiology or chain of causation of back injury.
Most injuries, related to poor ergonomic design of equipment being used does not begin with a major trauma; most are the product of months or years of mini-trauma.
This is where Pro-Line fits into your plans. Since the 1978 debut of the first generation Model HD (still our most popular model) and our retractable ball transfer table, Pro-Line has been the leader in ergonomic workstation design.
Since 1978, each year we have introduced new basic model workstations, ergonomic accessories and ergonomic handling devices. Within this site you will find what we feel is the "leading edge in modular ergonomics."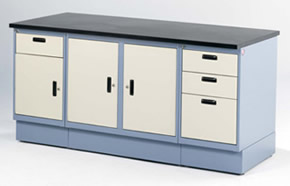 Please keep in mind that the field of industrial ergonomic design is still emerging. The products found here are those with broad applications. Many of our orders are designed for a customer's unique application. Start by calling or fax a freehand sketch to your distributor or the factory. (Pro-Line's complete product catalog can be easily obtained by filling out a request form.) We will return your idea as a drawing and with a quotation.
Pro-Line is committed to giving you the quality and service you deserve. Give us a call next time you are putting up a new building, setting up a new line or simply modernizing your production or lab area and you will see you can get the latest designs in ergonomic workstations at a fair price.
Supplier Directory Categories
Pro-Line - A Division of RW Hatfield is listed in these categories: