Profile Home
About
ProMation Engineering Inc. manufacturers of an extensive array of
reliable industrial electric actuators where critical flow control is needed to ensure process uptime.
ProMation's products are used in a variety of applications including water and water treatment facilities, air control and isolation, high demand cooling, power generation, agriculture, metals processing, mining, chemical processing and oil and gas delivery and refining. ProMation's products utilize electrical and mechanical components specifically engineered for industrial environments. The engineering teams have designed specific products for OEM applications now in use worldwide.
ProMation quarter turn products are used on butterfly valves, ball valves and plug valves for fluids and are in use with dampers to control air flow. The failsafe mechanical spring return quarter turn actuators are used in air isolation dampers such as those found in tunnels, medical facilities or consulates. The ProMation Engineering linear actuators are used in rising stem and two or three port control valves, especially in larger high pressure applications where the expense and complication of dual seat valves are to be avoided.
Products
ProMation's product line includes: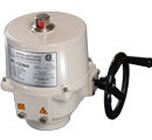 Quarter-turn non-spring
return electric actuators to
40,000 in lbs (4500 Nm)
of torque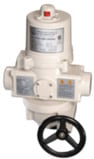 Quarter-turn spring return
electric failsafe actuators to
2300 in lbs (260 Nm)
of torque

Linear electric actuators to
4400 lbs (2000 kg) of force
Different Control Options packed with Features

ProMation offers on/off/jog as well as proportional control. The ProMation Premium Proportional Control board can accept multiple control signal inputs (4-20mA, 1-5VDC, 2-10VDC or
0-10VDC) as well as AutoCalibration for rapid setup. An alphanumeric display and joystick control provide the interface of the micro-controller. There are 5 diagnostic fault indicators and 14 data logging output values that are used for set up as well as efficient troubleshooting.
Electronic Options Engineered for Industrial Applications.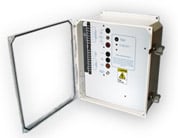 ProMation has engineered its electrical componentry to operate reliably in harsh industrial environments. RuggedBoard Design uses printed circuit boards to eliminate much of the wiring and connections that can cause premature failures. The Power Backup Units (PBU's) provide electrical power for critical fail-safe positioning. Our Motor Control Centers (MCC's) feature phase monitoring to ensure correct motor direction in 3 phase applications.
Feature
Benefit
RuggedBoard Electrical Design
Wiring connections are on printed circuit boards, increasing connection reliability as compared to typical connections found in other actuators.
Patented self-locking drive
No motor brake required that can fail and require repair.
Clutchless manual override
Easy manual adjustment -- even under load, without levers to push or pull.
Anti-condensation Heater and Auxiliary switches standard
No additional cost to protect electronics from condensation. Common use of auxiliary switch is to identify when Open or Closed positions are reached.
Planetary or worm drive transmission gearing
Tough, dependable torque transmission in a compact, quiet package.
Industrial grade metal internal components
Epicyclic gears are carbon steel, internal hardware is stainless or painted steel, aluminum end of travel cams, and Class F motors (275 deg F / 135 deg C) allow for longer service life.
NEMA 4/4X cast aluminum alloy housing
Specified for outdoor use, corrosive or uncontrolled environments.
ISO5211 mounting system
Increase range of valves that can be mounted without additional brackets. Simple inserts fit into oversized double square female coupling that can accept a wide range of valve stem configurations.
Easy-to-see raised position indicator
Allows for quick visual verification of the true position of the actuated device.
Positive mechanical stops in base
(800"lb and above)
Overtravel protection for the actuated device during manual override operations.
Ambient operating range is
22F to +150F (-30C to +65C)
with internal heater
Allows for applications ranging from mechanical rooms to outdoor environments.

Engineering expertise and efficiency
ProMation application engineering is an effective organization that continues to develop new product offerings and custom OEM solutions ranging from adding special indicator lights to developing proprietary local control stations to designing solar powered systems for flow control in remote locations. Our ability to rapidly bring solutions to market is one of our strongest assets.
Customer Service and Technical Support for the most demanding applications
We aim to foster a high degree of loyalty between the company our employees and our customers by providing superior customer service and technical support that is unsurpassed in the industry. Respectable distribution guidelines, competitive pricing structures, and efficient control of inventory levels help maximize financial performance for our customers. Phones are answered by our Customer Service team in Florida and knowledgeable technical staff is on hand for consult at all times. Estimating, procurement, and delivery procedures are concise and reliable.
We stock and back up our products
ProMation Engineering maintains a minimum of six week stock at our Florida facility and can turn around orders in a manner of hours for small rush jobs. All products are covered under our standard 18 month warranty. For more information go to http://promationei.com or call 352 544 8436
Technical Articles


Industrial Three Phrase Electric Actuators
(Valve Actuators and Positioners)
In an industrial environment with three phase power readily available, there are several reasons three phase power just makes good sense. The main reason to use a three phase motor is that it runs... (
View Full Article
)