About
Established in 1986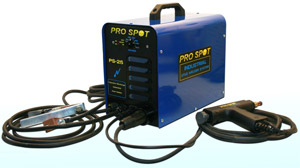 Pro Spot Industrial is a division of Pro Spot International which is based in Oceanside, California. Pro Spot which was established in 1986 manufactures resistance spot welding equipment specializing in applications for the collision repair industry. The company owns and manages an onsite machine shop, research and development department, a fabrication facility and production lines for the various welders.
Pro Spot Industrial manufactures CD Stud Welding equipment for the various industries including the following: Precision Sheet Metal, Electronics/Aerospace, Automotive, Cookware/Appliances, Signs and Decorative Trim, Insulation Products, Office Furniture, Material handling Equipment, Toys, and Sporting Goods.
Pro Spot's Industrial division was established to bring a new line of industrial products to the market which is based on the welding expertise gained over many years in the collision repair industry.
Supplier Directory Categories