About
| | |
| --- | --- |
| | We offer a wide range of network capable, rugged, precision liquid flow sensing and control instruments for the semiconductor equipment, automotive, medical and casting markets. |
Our worldwide customers value Proteus' 40 years of experience and our proven ability to customize flow control products for their complex and specific applications to measure temperature and pressure, improving process control and predicting service shutdown for heat exchangers and other critical equipment.
Our WeldSaver
™ is a leading cap loss detector and coolant flow controller for robotic welding applications, and our leak detection system provides the ultimate protection against catastrophic leaks for mission-critical equipment. Our sensors are used around the world to protect thousands of induction furnaces, welding torches, high-power lasers, plasma cutting systems, and semiconductor processing systems.
Proteus
is also the exclusive U.S. distributor of
Tofco flow management products
, including flow meters for ultrapure liquids, flow controllers, and the Tofpine Manifold System. We pride ourselves on our ability to quickly provide custom engineering, including multi-sensor panels and manifold assemblies.
Proteus family — 2017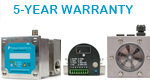 Five Year Warranty
Proteus Industries warrants Proteus-manufactured flow products to be free from defects in materials and workmanship for a period of five (5) years from the date of shipment.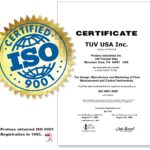 TUV Certification
TUV USA Inc. hereby certifies that Proteus Industries Inc. has established and applies a quality system for
The Design, Manufacture, Calibration and Marketing or Flow Measurement and Control Instruments.
Conflict Minerals Policy
United States government regulations require that companies that register with the Securities and Exchange Commission (SEC) report whether their products incorporate any "conflict minerals". "Conflict minerals" are defined as tantalum, tin, tungsten, and gold.
Supplier Directory Categories
Proteus Industries Inc. is also listed in these categories:
Technical Articles