Profile Home
About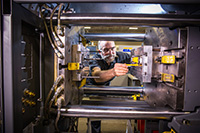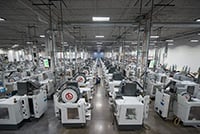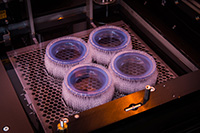 Protolabs was founded in 1999 by Larry Lukis, a successful entrepreneur and computer geek who wanted to radically reduce the time it took to get injection-molded plastic parts. His solution was to automate the traditional manufacturing process by developing complex software that communicated with a network of mills and presses. As a result, plastic and metal parts could be produced in a fraction of the time it had ever taken before.

Over the next decade, we continued to expand our injection molding envelope, introduced quick-turn CNC machining, and opened facilities in Europe and Japan. In 2014, we launched industrial-grade 3D printing services to allow product developers, designers, and engineers an easier path to move from early prototyping to low-volume production. And in 2017, we acquired Rapid Manufacturing to further expand our machining capabilities and introduce sheet metal fabrication into our suite of services.

Today, Protolabs is a leading rapid manufacturer of custom prototypes and on-demand production parts due to our commitment to accelerating our customers' product development. Our manufacturing services and process are always expanding in order to meet the ever-changing needs of product developers and engineers around the world.

At the heart of our manufacturing speed is our proprietary software, web-based quoting system, and automated processes. It all starts with a customer uploading a 3D CAD model online and receiving an interactive quote within hours. Each quote contains design feedback and real-time pricing – so customers can adjust material, lead times, quantities, and more and instantly see the impact on pricing. Once an order is placed, digital manufacturing instructions are sent to the factory floor for production.

3D printing at Protolabs consists of five commercial-grade technologies: stereolithography, PolyJet, selective laser sintering, Multi Jet Fusion, and direct metal laser sintering. In addition to a range of capabilities, we have process controls and quality standards in place to ensure precise parts every time. Each 3D CAD model is carefully reviewed by an applications engineer before the build begins and carefully monitored during each build.

Our CNC machining process uses 3- and 5-axis axis milling along with turning with live tooling to machine parts from more than 30 engineering-grade plastic and metal materials. The result is functional parts suitable for form and fit testing, jigs and fixtures, and end-use applications. Our automated CNC machining process can manufacture and ship up to 200 parts in as fast as one day.

Rapid injection molding at Protolabs leverages our proprietary software to quickly fabricate aluminum tooling and mold plastic parts within days. Our molding service offers two options – prototyping and on-demand manufacturing – that enables customers to select a tooling solution tailored to their project's requirements. Our injection molding service includes multiple processes: plastic molding, overmolding, insert molding, and liquid silicone rubber molding, and we offer more than 100 thermoplastic resins and elastomeric materials.

We now have more than 12 manufacturing facilities located around the world and continue to explore new ways to accelerate product development, reduce costs, and optimize our customers' supply chain with rapid manufacturing technologies.
Technical Articles


Supplier Announcements

Proto Labs, Inc.

Proto Labs, Inc.

Proto Labs, Inc.