About
World-Class Testing & Interconnect
Products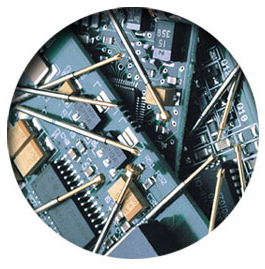 QA Technology has been serving the electronics testing industry for over twenty-five years, designing industry leading test probes for in-circuit testing of printed circuit boards and for interfacing test fixtures to automatic test equipment (ATE).
QA Technology is proud to introduce their new integraMate hyperboloid contact system, which utilizes the same high level of automation machinery as their test probe products. This new product enables them to expand their offerings into the mil-aero and medical connector markets.
To further guarantee the highest levels of quality and innovation, QA Technology designs and manufactures their own production equipment. By tightly controlling the entire process, from initial
design concept to finished machining, they are able to produce
world-class interconnect products. Perhaps that's why product
and test engineers specify QA Technology's products and why
they have attracted customers around the globe.
Supplier Directory Categories
QA Technology Company, Inc. is also listed in these categories:
Technical Articles

How Tip Geometry Affects Contact Reliability
(Electrical Contact and Electrode Materials)
The actual contact area depends largely on the geometry and condition ofthe probe tip. A tip which is blunt (either by design or because it has become worn or flattened during use) will make contact... (
View Full Article
)

Probe Maintenance
(Electrical and Electronic Test Equipment)
Test probes used in production testing will eventually get dirty enough to cause contact problems. The following steps will eliminate contact problems caused by dirty probes. (
View Full Article
)