About
Quickmill is a manufacturer of large area CNC Machining Centers for the metal cutting and fabrication industries. For over 25 years Quickmill has been the leader in CNC Milling and Drilling machines for the Heat Transfer, Power Generation, Transportation, Off Road and Desalination Industries. With large size tables, high horsepower spindles and complete turnkey machining solutions, Quickmill is your answer for the high quality precision and reliability needed to compete in today's market.
With many installations in North and South America, the Middle East, India, Africa, Europe, and the South East Asia region, Quickmill has grown to be a recognized leader in CNC milling and drilling technology around the world.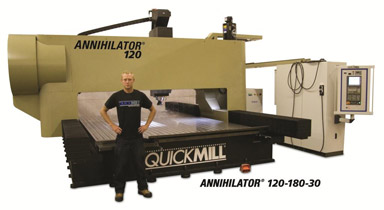 With our wide range of large table sizes, our Quickdrill Bridge and Intimidator Gantry lines of drilling machines have helped many customers enter and excel in their given industry with our line of CNC Drilling machine solutions. Our Eliminator Gantry and Annihilator Gantry lines of CNC machining centers allow customers to machine a wide variety of large parts in many different sectors providing versatility and flexibility to our customers' production processes.
Another key strength is Quickmill's capability to offer full turnkey solutions and customized machines to solve customers' individual and unique application requirements.
Our a dedicated service staff is ready to help with any issue from installation, to warranty support, to preventative maintenance programs specifically tailored to your requirements to keep your machine running properly. Our dedicated group of phone techs are available to assist with troubleshooting over the phone, via email, or if required, in person at your plant. With strategically placed parts depots and more planned for the near future, Quickmill is able to minimize downtime for customers around the world.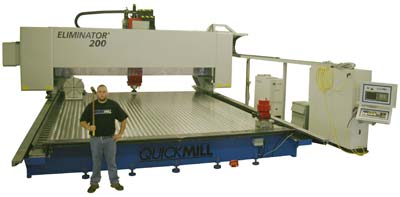 Our tooling and applications department can help train your operators to ensure they are utilizing the Quickmill machines properly while maximizing production efficiencies with the machine. Our application specialists can assist in part programming, proper part setup, tooling selection and recommendations, as well as offer many patented Quickmill kits and packages designed to increase productivity in our customers' manufacturing processes.
Please feel free to contact Quickmill to see how Quickmill can help your company grow!
Supplier Directory Categories
Quickmill Inc. is also listed in these categories: