About
From Quality Products…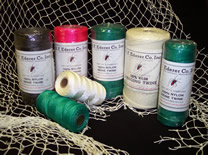 A century of net making has taught the Ederer Family that there is no substitute for quality. R.F. Ederer Company manufactures its products entirely in-house. We begin with nylon filament, which is twisted into twine sizes from #5 to #96. The product is then either packaged into ¼, ½, or 1-lb. tubes for our retail market, or made into netting based on your dimension requirements. We produce 18 twine sizes and can satisfy your netting needs from ¾" – 24" stretch mesh.
Throughout the process, quality inspections receive top priority. Every inch of netting and every tube of twine carries the Ederer name, indicating the best in the industry.
To Quality Service…
Our products are made to order to your specifications. When an order is made, our customer service personnel monitor every stage of its production to make sure every order is on time – every time.
We also give distributors every incentive to do business with us. From our toll free number (1-888-433-3737), our volume discount policies, and our liberal shipping practices. We go the extra mile to satisfy our distributors with what they need – when they need it!
Supplier Directory Categories
R.F. Ederer Company is listed in these categories: