About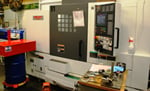 Rable Machine Inc. has been a well established business for over 60 years and 100% employee owned since 1992. They are a custom machining company focused on delighting their customers with outstanding quality and service. Rable's capabilities include:
CNC Turning
Milling
Drilling

Screw Machining
Assembly Operations
Rable Machine is a financially strong and stable company with their sight on the future. They have grown an average of 20% per year and has invested over $5.0 million in capital equipment and improvements. A significant portion of these improvements have been in new "State of the Art" equipment and moving into their new 50,000 sq. ft. building. This has allowed Rable to dramatically expand capacity and complexity and significantly improve quality and throughput.
Effective January 11th 2010 Rable Machine Inc. successfully met the requirements for certification under ISO-9001-2008. Rable Machine Inc. is a manufacturer of precision, CNC machined parts and assemblies.

Rables key processes included under the ISO certification includes, Quality Management, Order Fulfillment, Purchasing and Customer Service. This achievement is yet another building block in Rable's commitment to meet the specific needs of its customer base.

Rable customer service "Can Do Attitude" includes (52) turn inventory service, Kan/Ban replenishment stocking programs, value added engineering, design input to lower costs and consignment of your parts is available.
Rable's employs a "Cellular Manufacturing" structure along with "LEAN" business principals. This has allowed Rable Machine to provide continuous improvement and drive quality back into their "LEAN Manufacturing Cells".
Industries Served

Rable's products are used in:

Fluid Management Systems
Flow Control
Industrial Automation
Network Power Systems
Climate Control Systems

Oil and Gas Transmission
Petrochemical and Petroleum Refining
Medical Devices
Other Industrial High Tech Innovations

Other industries served:

Aviation
Aerospace
Telecommunications
Banking

Printing
Defense
Pump and Valve Applications

Rable has a highly qualified and fully equipped Quality Control Department. They are in tune with various quality techniques and improvement methods such as SPC and 8D problem solving. Rable is ISO-9002 compliant as surveyed by several customers in the aerospace industry and they plan to be third party registered by the end of the year.
Supplier Directory Categories
Rable Machine, Inc. is also listed in these categories: