About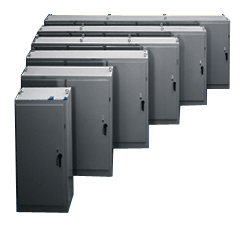 Ralston Metal Products is committed to making quality electrical enclosures that achieve total customer satisfaction and exceptional deliveries. Quality and dependability at Ralston is the direct result of the dedication and skillful execution of their team.
Historically committed to customization, the company's roots can be traced to one customer's request to build an enclosure. Originally called Northcott Scientific Instruments, the company serviced the University of Guelph, creating metal tools for a variety of disciplines. By 1960, enclosures became the mainstay product and under Inglis W. Berry's ownership, with 3 employees and 4000 square feet, Ralston Custom Steel was born.
Today, with a team of over 100 employees strong working a total 157,000 square feet, Ralston is one of Canada's largest enclosure manufacturers, supplying markets around the world.
Ralston's full range of UL, CSA & European approved stock enclosures are available in Carbon Steel, Stainless Steel, and Non Metallic.
In addition to stock enclosures, Ralston Metal Products has the facilities to modify stock enclosures or build complex custom cabinetry to your specifications. They welcome inquiries during the initial design stage, whether it is for a one-of-a-kind prototype, or large volume run.
Supplier Directory Categories
Ralston Metal Products Limited is also listed in these categories: